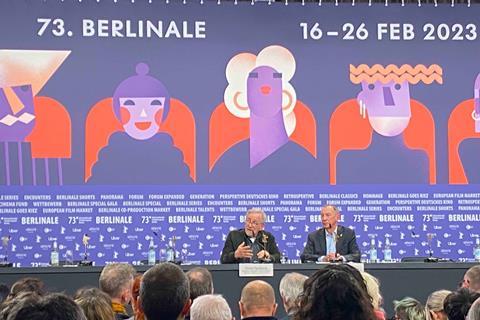 Steven Spielberg admitted at a Berlinale press conference today that he has yet to settle on his next movie project as a director.
Spielberg said that he had just emerged from a busy period making two films back-to-back, having started writing The Fabelmans with Tony Kushner while he was still in post for West Side Story. "Those two films overlapped. Because that was such a time drain, I never had a chance to think about what I am going to do when these two movies are over.
"I don't know what I'm going to do next, I have no idea," said Spielberg. "It's kind of a nice feeling. It's also a horrible feeling. It's nice that I can actually have control of my life again…But I need to work, and I love the work. And that's the biggest question I'm going to have for the rest of the year and will try to figure this out."
At the press conference, Spielberg did reference a long-mooted HBO biopic of Napoleon, based on a script by his late friend and fellow director Stanley Kubrick that he said he was co-operating on with Stanley Kubrick's widow Christiane and her brother Jan Harlan.
"We are mounting large production for HBO based on Stanley's original script Napoleon. So, we are working on Napoleon as a seven-part limited series."
Spielberg has been linked as a producer on the series in the past, while No Time To Die director Cari Joji Fukunaga has long been linked as a director to the project.
Honorary Golden Bear
Spielberg is in Berlin to be presented with an Honorary Golden Bear for lifetime achievement on Tuesday evening (February 21) and will also present a gala screening of The Fabelmans. The festival's Homage section has also been devoted to his films. "To be honoured in Berlin, which is one of the most august festivals in history, is a tremendous high point in my life," he said.
He said that the award had put him into a reflective mood. "The honour about a lifetime achievement award is just simply that it forces you to do something I don't often do: it forces me to reflect. Reflecting means I'm not moving forward. For me, when I reflect, it means I'm spending too much time in neutral, just remembering.
Spielberg was warmly received by the international media at a packed Berlinale press conference. He also seemed to be enjoying himself, and allowed for more questions when the allotted time for the conference had run out.
He said the lifetime achievement award was being given to him on the sixth anniversary of the death of his mother – who he said had been portrayed "very accurately" by Michelle Williams in The Fabelmans.
"When my mum had this restaurant for all these years before she passed away, she would always say, 'When are you going to tell our story…I've given you so much good material…when are you going to use that material."
Spielberg said that the pandemic, when he was 'sequestered at home with his family' gave him the time to work on The Fabelmans: "I've always wanted to tell the story of my mother, my father, my sisters, and this kind of amazing struggle between art and family. It has been on my mind all of my life and has come out in all my films. All my films are really personal. And many of them are about family. But nothing that is so specific to my own experiences as The Fabelmans."
"In a way, the fear I felt about the pandemic gave me the courage to tell my own story."
Advice for young directors
Referencing a scene in The Fabelmans where a young Steven Spielberg meets his hero, the legendary director John Ford, and asks him for advice, one audience member asked Spielberg what he would now say to a young director asking for his advice.
"Well, I'm not going to say, 'Get the fuck out of my office," said Spielberg.
"The advice I usually give is not so much about how to make shots interesting, but how to recognise interesting stories and how to tell stories. There are so many opportunities to learn from so many great cineastes working today. I learn actually more from filmmakers today than I do from some of the older filmmakers who have made movies 80-90 years ago, because some of the new filmmakers are doing such audacious work."
He cited directors Daniel Kwan and Daniel Scheinert for their "amazing genius work" on Everything Everywhere All At Once. "I'm learning from young filmmakers so much.
Spielberg added: "One of the things I've learnt is you have got to have a good script. I've always said, 'If it ain't on the page, it ain't on the stage.' And I really believe that. So, my advice is that if you want to be a movie director, first of all write, and if you don't feel that's your strong suit, meet somebody who's strong suit is storytelling and writing, and form a little partnership, because it's stories that get an audience to pay attention to you and not the shots."