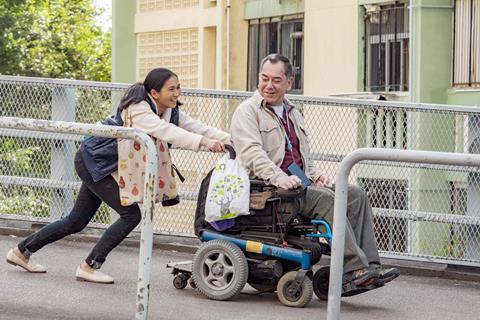 Oliver Chan's debut feature Still Human, starring Anthony Wong, picked up both the top Audience Award and the Critics Award at the 21st Udine Far East Film Festival (FEFF) in North-eastern Italy.
The Hong Kong drama, featuring Wong as a paralysed construction worker and Crisel Consunji as his Filipina caretaker, had its director and co-stars onstage at the Teatro Nuovo – a familiar place for Wong who previously won a Golden Mulberry Award for Outstanding Achievement in Udine.
"We live on the other side of the world and we were worried that our film wouldn't be understood. But the world speaks a single language – the language of love," said Consunji.
Chinese black comedy Dying To Survive, directed by Wen Muye, took second place in the Audience Awards voting, while Korean blockbuster action comedy Extreme Job, directed by Lee Byoung-heon, took third place.
The White Mulberry award for first film went to Tanaka Seiji's Japanese film Melancholic, while the Mymovies Award went to Japanese film Fly My To The Saitama, directed by Takeuchi Hideki.
The 21st FEFF ran April 26 to May 4, screening 77 films with three world premieres and 14 first films.
It kicked off by awarding Korean actress Jeon Do-yeon a lifetime achievement award and then screening director Lee Jong-un's Birthday, starring Jeon. The film was a bold choice for an Opening Film as it deals with the aftermath of the Sewol ferry disaster that saw the loss of hundreds of schoolchildren.
While some festival-goers said they felt the film was "too heavy" for an Opening Night, which is usually expected to have a celebratory air, others who said they found it "cathartic" and helpful.
Thomas Bertacche, FEFF general coordinator, said: "We are not Korean. We don't read Korean, but the Sewol tragedy happened ten days before our festival in 2014. And of course there was everything that happened with the Busan film festival [which was blacklisted by Korea's previous government for showing a documentary on the tragedy in the same year].
"We can feel it was a very painful thing for our friends and for us as well. This film is really Korean, and not so easy, but at the same time we could open with it because it seemed a perfect way to start our second decade."
Increase in attendance
As the festival celebrated a gala 20th edition last year, FEFF president Sabrina Baracetti said she expected attendance numbers to go down this year in comparison: "I thought last year was the '20th edition effect'. But this year is really seeing the 20th edition effect, with more guests attending the festival and Focus Asia. We had 100 filmmakers plus 150 professionals and 60,000 attendees, more or less the same as last year."
Organisers also reported more than 20,000 visitors to FEFF Events around the city, which include a cosplay contest, paper theatre and martial arts workshops.
In addition to Jeon and Wong, Asian stars attending the festival included Korean actor Jung Woo-sung and Chinese actress Yao Chen.
Professionals from the film festival circuit praised FEFF for cultivating local audiences over the years, with their familiarity to mainstream Asian cinema and their affinity for the cultures shown therein.
"The Great Battle has screened at other film festivals, but I've never seen such passionate audiences as in Udine," said director Kim Kwang-sik, whose historical drama reportedly drew cheers and shouts at its screening.
Industry focus
Regulars who have been coming to the festival for years say it has changed as it has grown, but Baracetti says: "The concept of the festival is actually the same, but now it's a new era for Udine FEFF. We have put a lot of effort into creating an industry section with the Focus Asia project market because it is also very important for us to be more than just a showcase.
"We are paying attention to tomorrow, to letting people see possibilities to work together, but with the same easy-going casual focus on the emotions."
Three omnibus films screening at this year's Udine – Ten Years Thailand, Ten Years Taiwan and Ten Years Japan – came about as a direct consequence of meetings at the festival. FEFF screened the original film in the series, Ten Years Hong Kong, an omnibus of five shorts depicting visions of the future, in 2016. During that same edition of FEFF, the film's distributor Golden Scene met Japanese producer Miyuki Takamatsu and decided to expand the project internationally.
In addition, FEFF invited Chie Hayakawa, whose short film Plan 75 was in the Ten Years Japan omnibus, to present her vision to expand the short into a feature film at the Focus Asia project market.
With Korean cinema celebrating its centennial, FEFF also held a special retrospective of eight films from South Korea's era of military dictatorships, centring on people who break the law.
"When villains break the law, we don't think much of it, but when protagonists break the law, it makes the audience question what led them to come to it," said curator Darcy Paquet. "This retrospective was meant to look at what is good and what is evil in a military dictatorship."
Films included in the retrospective included Jo Keung-ha's melodrama The Body Confession (1964), Lee Man-hee's youth drama A Day Off (1968) and Lee Doo-yong's political detective story The Last Witness (1980).
Meanwhile, the festival states it faces funding struggles each year and this year saw its budget reduced to €900,000 – a cut of more than €150,000 – with organisers saying they hope to find a "different kind of institutional approach for its future editions."
Nonetheless, FEFF has already set its 21st edition dates: April 24-May 2, 2020.