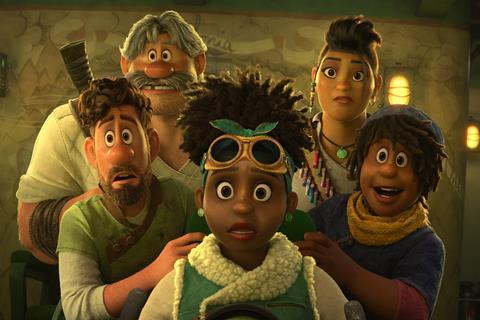 World box office November 24-26
| | | | | | | |
| --- | --- | --- | --- | --- | --- | --- |
| Rank | Film (distributor) | 3-day (world) | Cume (world) | 3-day (int'l) | Cume (int'l) | Territories |
| 1. | Black Panther: Wakanda Forever (Disney) | $78m | $675.6m | $32.1m | $307.9m | 51 |
| 2. | Strange World (Disney) | $21.1m | $27.8m | $9.2m | $9.2m | 44 |
| 3. | The Menu (Disney) | $10.6m | $33.5m | $5.4m | $14.8m | 42 |
| 4. | Devotion (Sony) | $6.2m | $9.2m | $0.2m | $0.2m | 17 |
| 5. | Black Adam (Warner Bros) | $6.2m | $378.1m | $2.8m | $215.1m | 77 |
| 6. | Suzume (various) | $6m | $44.9m | $6m | $44.9m | 1 |
| 7. | The Owl (various) | $5.2m | $5.3m | $5.2m | $5.3m | 1 |
| 8. | Roald Dahl's Matilda The Musical (Sony) | $5m | $5m | $5m | $5m | 1 |
| 9. | Bones And All (Warner Bros) | $4.3m | $5.8m | $2.1m | $2.1m | 29 |
| 10. | Detective Conan: The Bride Of Halloween (various) | $3.4m | $102m | $3.4m | $102m | 1 |
Credit: Comscore, click top right to expand. All figures are estimates.
Disney animation 'Strange World' disappoints in opening session
While Hollywood studios have become increasingly cautious about greenlighting big-budget movies based on original intellectual property, animation was always viewed as an exceptional case. Animation brands such as Pixar, Illumination Entertainment and Walt Disney Animation Studios were considered strong enough to connect fresh IP to audiences.
Such thinking has taken a dent with the release of latest Disney animation Strange World, an original story inspired by classic pulp sci-fi magazines of the past and the adventures of Jules Verne.
Strange World grossed an estimated $11.9m in North America at the weekend and $18.6m across the five-day Thanksgiving holiday period. Add an estimated $9.2m for 43 international markets, and that delivers a global debut of $27.8m.
In international markets, Disney faces a series of obstacles that have knocked the box office. Like many US titles this year, Strange World is not set to be released in China, and Russia is also off the table.
Thanks to France's media chronology laws preventing a timely release on Disney+, the animation is foregoing a theatrical opportunity in one of Europe's top markets.
And because a significant character in Strange World – teenage son Ethan (voiced by Jakoubie Young-White) – is gay, the film is skipping release in the Middle East and other conservative Islamic countries.
In UK and Ireland, Strange World faced very strong competition from Sony's local family title Roald Dahl's Matilda The Musical, which grossed an estimated $5.0m in its sole theatrical market (Netflix has rights elsewhere).
In the past, release dates for Disney and Pixar animations have been adjusted to serve local needs – Coco landed in the UK in mid-January 2018, almost two months after the North America release. Room for manoeuvre to adjust theatrical release dates in individual territories is much more limited if the studio is aiming for a global Disney+ launch date.
Despite the competition from Matilda, Strange World achieved its best international box office result in UK/Ireland with an estimated $1.0m. Spain, Mexico and Italy are tied with $700,000, and Germany and Japan both delivered $600,000.
Given that Strange World did not land in a holiday period apart from in the US, long-term play into the Christmas holiday period will be key for the box office life of the film.
'Black Panther: Wakanda Forever' stays top with $78m session
A strong North America performance boosted by the Thanksgiving holiday has given a helping hand to Disney's Black Panther: Wakanda Forever which posted an estimated $78.0m in its third session, taking the total to $675.6m.
The past seven days saw the North America total swell by nearly $80m, taking the total to $367.7m. The same period saw international markets add nearly $50m, taking the total to $307.9m. For context the second weekend leading into this period saw international markets outgross North America.
Wakanda Forever saw its North America weekend box office decline by a slim 31% from the previous session. For the film's 50 international markets, the drop was a heftier 53%.
Today (November 28), Wakanda Forever will overtake both The Batman ($369.3m) and Minions: The Rise Of Gru ($369.5m) to become the fourth biggest film of 2022 at the North America box office – behind Top Gun: Maverick, Doctor Strange In The Multiverse Of Madness and Jurassic World Dominion. Globally, the film currently ranks seventh, and needs to add another $85m to catch Thor: Love And Thunder in sixth place.
Wakanda Forever is not set to match the lofty total of the first Black Panther film, which stands at $1.35bn. That number was boosted by a combined $124m for China and Russia – where Wakanda Forever is not set to play.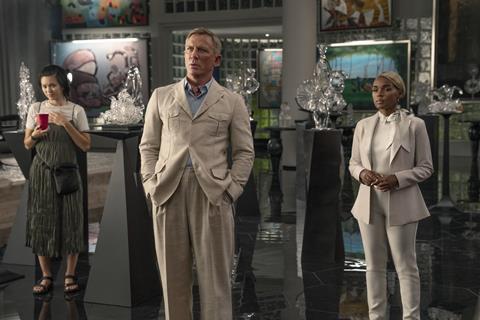 'Glass Onion' presents box office mystery
Comscore's global weekend chart shows Disney's The Menu, from Searchlight Pictures, in third place, with an estimated $10.6m for its second session (and a $33.5m total).
Had Netflix chosen to abandon its policy of secrecy and disclose box office numbers for new release Glass Onion: A Knives Out Mystery, the film would likely have occupied this position in the chart instead.
Glass Onion is playing in approximately 600 cinemas in North America – the widest ever release for Netflix – generating what independent sources are estimating as $13m for the five-day holiday period.
Rian Johnson's whodunnit is also receiving theatrical play in international markets. In UK/Ireland, it's believed to be playing in around 100 cinemas, and could have played wider – with the exhibition sector's appetite for the film believed to be much larger than has been served by the streamer.
Anecdotally, Glass Onion is achieving high site averages, and it's reasonable to assume the film will generate at least £1m ($1.2m) UK/Ireland box office across the week-long run (November 23-29), and possibly closer to £2m ($2.4m). After November 29, Glass Onion then becomes unavailable until the December 23 Netflix launch.
Meanwhile the above-mentioned The Menu benefited from arrival in Australia and France, debuting there respectively with estimated $800,000 and $700,000 box office. In international holdover markets, the film fell 39%. UK/Ireland leads among international territories, with $2.4m. This week sees The Menu land in major markets Spain and Brazil as well as the likes of Portugal, Hong Kong and Taiwan.
'Bones And All' begins rollout with $6m launch
Warner Bros' Bones And All landed in North America for Thanksgiving weekend, and also in its first 28 international markets. The release has generated an estimated $5.8m so far, including $2.1m for international.
Luca Guadagnino's young adult cannibal romance road movie is considered a tricky genre position, and will need careful handling – although names including the director and stars Timothée Chalamet and Taylor Russell should help.
Italy proved the top international market – with an estimated $636,000, and ranking second for the weekend. Bones And All generated much excitement from its Venice Film Festival premiere in September, adding to the profile for the Italian release.
UK/Ireland delivered an estimated $370,000, while France contributed $217,000 – both from five days of play.
The film rolls into another 19 territories this week, including South Korea and all of Latin America.
'Letters To Santa 5' delivers 1 million admissions in Poland
Poland's festive-comedy franchise Letter To Santa continues to draw audiences in the territory with the fifth film in the series.
Letters To Santa 5 has been topping the Polish box office since release on November 4, and has now reached 1 million admissions. The Letters To Santa films benefit from ensemble casts of popular local actors, and follow the Christmas stories of multiple characters.
The series began in 2011 with Letters To Santa directed by Slovenia-born Mitja Okorn, who went on to an international career with 2020's Life In A Year.
Subsequent instalments have featured different directors. Marcin Baczynski co-wrote Letters To Santa 2, 3 , 4 and 5 – together with Mariusz Kuczewski on 2, 4 and 5. The latest film is directed by Lukasz Jaworski, making his feature debut after local TV series including Usta Usta and Na Noze.