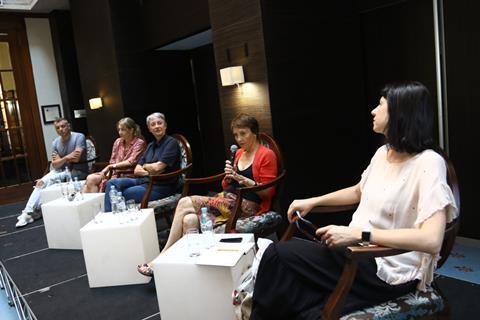 The dominant streaming companies are offering "outrageous" contracts to emerging actors, preventing them from taking on other work, claimed a panel of casting directors at the Sarajevo Film Festival today.
"It's outrageous, the low fees," said French casting director Natalie Cheron. "[Actors] have to sign up for five years, they aren't allowed to do any other shows. It is a big deal. But there are actors who are starving and willing to accept anything sometimes."
She cited the strength of actors' unions in France as providing some protection from these conditions; protection which is not necessarily available elsewhere in Europe.
Bosnian casting director Timka Grin noted the global platform often provided by the SVoDs persuades actors to take work with them as a showcase. "Actors want to do a TV series as an opportunity to be in the movies," she said.
Addressing an audience containing many actors from the Balkan region, Cheron acknowledged the differing value of working for a streaming company in different territories.
"I can understand that a Bosnian or Croatian or Lithuanian actor accepts conditions that are not so great, but it gives them an international visibility. France produces 300 feature films per year – so how spoilt are French actors?! They won't go for anything at any price." she claimed.
Cheron and Grin were joined by casting director Beatrice Kruger from Italy, Piotr Bartuszek from Poland and Corinna Glauss from Switzerland in discussing the state of the casting industry and offering advice to actors attending the Sarajevo Film Festival.
The event was called Attaching Actors And Securing The Best Cast: How A Casting Director Can Help Your Project and took place as part of the CineLink industry strand.
The casting directors are attending the festival to participate in a program of masterclasses to increase the exposure for actors from the region. The initiative, which started in a pilot version last year, is running in conjunction with the International Casting Directors Network, of which Kruger is the head.
The industry events continue with series presentations from organisations including Berlinale Drama Series Days, Sweden's TV Drama Vision, Germany's SerienCamp and the UK's Content London.