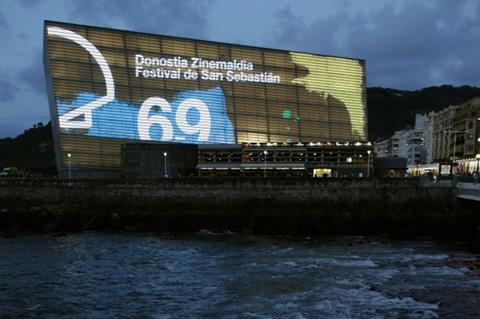 A group of independent European film distributors explained why they embraced a hybrid approach to film distribution at a talk today (September 20) at the San Sebastian Film Festival.
Using online platforms to distribute films should not be perceived as a threat to cinemas, but as a means of support, they said.
"You can't ignore online, unless you live on another planet," said Christina Pelekani, marketing and productions manager at Greek film distributor Feelgood Entertainment.
The talk, hosted by Europa Distribution, focused on the lessons that could be learnt from the pandemic. Pelekani reflected on the pandemic as a "period of trial and error" for learning what works with online distribution, and highlighted its benefits for helping films to reach new demographics, particularly in Greece, where cinema attendance was low, even prior to the pandemic. "Streaming is not our enemy. It could be our ally, if we find ways to collaborate," she added.
Pelekani was joined on the panel of distributors by Esther Kollmann from Cinéart in the Netherlands, Alzbeta Dlouha from the Czech Republic's Aerofilms and Emelie Samuelsson representing TriArt in Sweden.
Kollman said distributors needed to learn "a new skill" when figuring out which titles work best for online streaming platforms, and which suit theatrical releases, with the Netherlands seeing the video-on-demand market double during the pandemic. "The world is going faster," she added. "You can't wait. Don't be afraid."
Dlouha pointed towards the integrated approach to releasing Berlin Golden Bear winner Bad Luck Banging Or Loony Porn across multiple platforms in the Czech Republic as an example of the potentially harmonious partnership between theatrical and streaming releases. The film received a limited two-week premium video on demand release ahead of its official theatrical release on September 2, however Dlouha insisted there had been "no bad effect on admissions" in theatres, with Aerofilms regarding the title as its second most successful release of the year, following Annette.
"You can use video-on-demand to make a buzz around films," said Dlouha. "Cinemas don't have reasons to be afraid of video-on-demand. Theatrical release is the most important thing we do and our biggest income."
In Sweden – where not all cinemas shut during the pandemic but operated at a reduced capacity – Samuelsson was less optimistic about the symbiotic relationship between theatrical and digital film releases. While she acknowledged the need to continue with digital releases, she also noted that audiences have required "teaching to go back to the cinema" and that "the audience is used to digital".