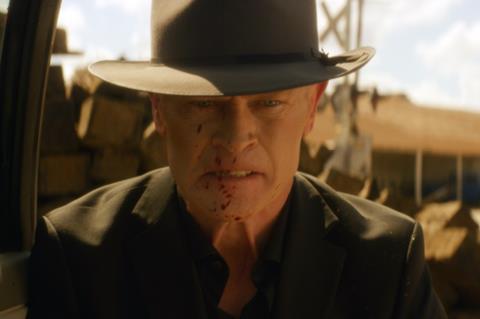 Los Angeles-based Sublimity Entertainment has acquired international sales rights ahead of the virtual AFM to action thriller Red Stone starring Neal McDonough and Michael Cudlitz.
Derek Presley wrote and directed the feature about a hitman (McDonough) tasked with hunting down a teenager who witnessed the murder of his older brother at the hands of a crime lord (Cudlitz).
The hired gun must track down the boy before either rival henchmen or the FBI find him first. As the clock ticks down the hitman begins to question his deadly ways and must choose his side.
Red Stone was one of the first SAG films to be greenlit during the pandemic and filmed in Corsicana, Texas.
McDonough has starred in Minority Report, Resident Evil: Welcome To Raccoon City, Captain America: The First Avenger and Justified, while Michael Cudlitz's credits include The Walking Dead, Band Of Brothers and Clarice.
Jason Starne of Muscular Puppy, LLC produces alongside executive producers Alex Blackmon and McDonough.
Sublimity's Ryan McCombs said, "We are delighted to announce Red StonE at AFM and are thrilled to be teaming up with Jason, Derek, and Alex. McDonough is truly exceptional here and has redefined the genre with his intelligent performance. The team has done a remarkable job crafting this brilliant cinematic tale and we know our buyers will respond enthusiastically. It's a must see."
Starne added, "When we started working on Red Stone we had no idea this pandemic was about to be thrust upon us. I am so proud of the cast and crew, and especially Neal McDonough for coming on board as our lead actor and offering his support to us. Thanks to partners like Sublimity everyone will have an opportunity to see the passion that went into creating this movie."