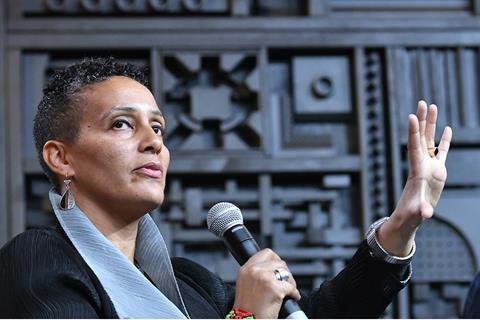 Sundance Film Festival director Tabitha Jackson has joined a new initiative that aims to develop and empower African producers.
Jackson will be one of several speakers at the inaugural Creative Producer Indaba training programme and will help build the leadership skills of participants.
Further speakers include Cara Mertes, project director of moving image strategies at the Ford Foundation, and Makhosazana Khanyile, CEO of the National Film and Video Foundation of South Africa (NFVF).
There will also be sessions with international producers and experts, including IFFR's Hubert Bals fund manager Fay Breeman, who will host a session on the process of funding applications.
As previously announced, 17 producers have been selected for the inaugural Creative Producer Indaba scheme, which has been developed by Realness Institute in partnership with Sundance Institute, International Film Festival Rotterdam and European training outfit EAVE.
The year-long training programme will include masterclasses and one-on-one meetings with assigned mentors to address topics such as project development, financing, marketing and advocacy. The first workshop in now underway and will run online for two weeks.
The participants will be mentored by producers Diana Elbaum, of Belgium's Beluga Tree, and Mehret Mandefro, of Addis Ababa's A51.
The workshops will be led by: Ama Ampadu (Saturday Films, UK); Cait Pansegrouw (Urucu, South Africa); Dayo Ogunyemi (Zuri 24 Media, Nigeria); Effie Brown (Gamechanger, US); Femi Odugbemi (234 Media, Nigeria); Katy Lena (IndigoMood Films, Senegal); Linda Beath (Ideal Filmworks, Italy); Rosa Attab (France) and Steven Markowitz (Big World Cinema, South Africa).
Indaba has also invited Christopher Mack, director of creative talent investment and development at Netflix, to host a masterclass on how to package content for streaming platforms.
The second workshop is set to take place during the 50th edition of IFFR in Rotterdam in January 2021 and will focus on packaging, financing and distribution. The programme will culminate with the presentation of a package that consists of a screenplay and strategic plans at an African co-production market in the second half of 2021.
The new initiative builds on Realness's screenwriting residency, which has launched 20 film projects in 13 African over the past four years and saw Lemohang Jeremiah Mosese's 2017 project This Is Not A Burial, It's A Resurrection win a jury prize at Sundance in January.
The programme design and financing was led by Elias Ribeiro, co-founder of the Realness Institute and a producer at South Africa's Urucu Media.