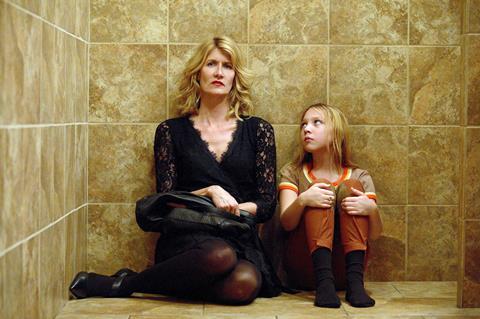 HBO Films has acquired Jennifer Fox's drama The Tale, one of the most acclaimed films to come out of Sundance that strikes a topical chord in light of the #MeToo movement and recent sentencing of US gymnastics coach and sexual predator Larry Nasser.
Laura Dern stars as a globe-trotting filmmaker – essentially Fox herself – whose mother alerts her to a story she wrote as a youngster detailing a "special relationship" with two adult coaches.
Jennifer returns to the horse farm where she spent time in her youth, awakening her seven-year-old self. The cast includes Isabelle Nélisse, Elizabeth Debicki, Jason Ritter, Frances Conroy, John Heard, Common, and Ellen Burstyn.
The US Dramatic Competition entry premiered last weekend and screens again on Friday night and on Saturday.
Oren Moverman, Lawrence Inglee, Laura Rister, Mynette Louie, Sol Bondy, Simone Pero, Reka Posta, Regina K. Scully, and Lynda Weinman produced.
"It has always been my intent to find an engaged distribution partner who deeply understands the wide reach of the project, not just as a film, but also for the impact it can have on a larger global conversation," Fox said. "In a world in which stories like mine have often been pushed into the darkness, no one has been better at shining a light on storytelling and important social issues than HBO. I am overjoyed to be able to take The Tale out into the world with such a vibrant and engaged team."
"I can't imagine a more timely and relevant film for HBO to have bought at Sundance," Len Amato, president of HBO Films, added. "The Tale, a courageous and deeply effective memoir from acclaimed filmmaker Jennifer Fox – and starring Laura Dern in a career-defining role – is a personal journey that embraces the truth of one survivor's experience and the power of memory. We're honored to bring this groundbreaking and revelatory film to the HBO audience."
HBO Films negotiated the deal with ICM Partners and Laura Rister on behalf of the filmmakers.
Gamechanger Films presents an A Luminous Mind, Untitled Entertainment, Blackbird, One Two Films production in co-production with ZDF in collaboration with Arte, supported by Medienboard Berlin-Brandenburg in association with Artemis Rising Foundation, Fork Films, and Weathervane Productions.