EXCLUSIVE: Second edition of event hosted with Greece's Faliro House will support filmmakers from the region.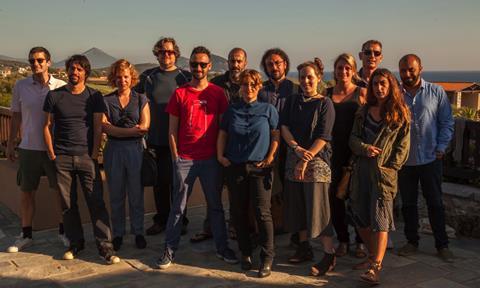 The participants for the second edition of the Faliro House Sundance Institute Mediterranean Screenwriters Workshop have been revealed.
The workshop, a collaboration between the Sundance Institute and Christos V Konstantakopoulos' Greek production company Faliro House, supports emerging filmmakers from Greece, Spain, Italy, Portugal and Cyprus (last year's event is pictured above).
The five-day workshop, held in Costa Navarino, Greece from July 3-9, gives eight filmmakers the chance to work on their feature film scripts with advisors.
The advisors include filmmaker Gyula Gazdag, artistic director for the Sundance Institute in the US, Lisa Cholodenko (Olive Kitteridge, The Kids Are Alright), Julie Delpy (Before Midnight, 2 Days In Paris), Jeff Nichols (Loving, Take Shelter), recent Palme d'Or winner Ruben Östlund (The Square, Force Majeure), Ira Sachs (Little Men, Love Is Strange), Zach Sklar (JFK), Eva Stefani (Bathers, Acropolis) and Athina Rachel Tsangari (Chevalier, Attenberg), who serves as co-director of the lab.
Julie Delpy told Screen: "I am delighted to be one of the advisors at The Sundance Mediterranean Lab. I discovered this magical area when writing and making Before Midnight and can think of no better location to develop and invest in new filmmaking talent."
The participants are:
Bios provided by Faliro House
Daphné Hérétakis - We Kiss In Dark Nightclubs And I Explain (Greece)
Daphné Hérétakis graduated from the University of Paris 8 Saint-Denis and the Fresnoy, National Studio of Contemporary Arts. Her films combine documentary and fiction and have screened at festivals such as IFF Rottedam, Visions du réel, Hors Pistes Pompidou, Entrevues de Belfort.
Giorgos Georgopoulos - Patty (Greece)
Giorgos Georgopoulos studied directing at the School of Cinematography and Television Likourgou Stavrakou, in Athens. He works as a film editor, a director and producer, mainly for films, documentaries & TV commercials. His award-winning first feature, Tungsten, played several international film festivals.
Loukianos Moschonas - No God No Master (Greece)
Based in Athens, Loukianos Moschonas directs commercials, documentaries, theater. His short film Manodoper premiered at Locarno and New Directors/New Films. No God, No Master is his first feature film.
Pietro Marcello and Maurizio Braucci - Martin Eden (Italy)
Born in Caserta, Italy in 1976, Pietro Marcello attended the Academy of Fine Arts, where he studied painting. In 2007, his documentary Il passaggio della linea (Crossing the Line) was presented at the 64th Venice International Film Festival. In 2009, his first feature, La bocca del lupo (The Mouth of the Wolf), won Best Film and the FIPRESCI Prize at the 27th Turin Film Festival, the Caligari Preis at the Berlinale, the Signis Prize at BAFICI, and many others. In 2011, Il silenzio di Pelešjan (The Silence of Pelešjan), which was presented as a special event at the 68th Venice International Film Festival. In 2015 his film Bella e perduta (Lost and Beautiful) was presented at the Locarno Film Festival.
Maurizio Braucci, born in Naples, Italy, in 1966, is a novelist and a screenwriter. His first novel Il Mare Guasto has been translated into French. He co-wrote the screenplays of Gomorrah (2008) and Reality (2012) by Matteo Garrone, both winners of the Grand Prix at Cannes. He worked also with Abel Ferrara (Napoli Napoli Napoli, 2009; Pasolini, 2014), Leonardo di Costanzo (The Interval, 2012; The Intruder, 2016), Giuseppe Gagliardi (Tatanka, 2010), Francesco Munzi (Black Souls, 2014) and Pietro Marcello (Lost and Beautiful, 2015). He directed the short-film Room 52, which played in competition at the 2016 Venice Film Festival.
Rocio Mesa - Tobacco Barns (Spain)
Born in Granada (Spain), Rocio Mesa premiered Orensanz, her first feature film as a director, in 2013; it was nominated for Best Andalusian Documentary at the ASECAN Awards and played several international film festivals, including Seville European Film Festival, BAFICI and Alcances. Mesa is the director of L.A. OLA - Spanish Contemporary Cinema Showcase in USA, celebrating its 3rd edition in 2017. She is currently working on her next feature film project as a writer/director called Secaderos (Tobacco Barns).
André Santos and Marco Leão - Nowhere (Portugal)
Between 2008 and 2017, André and Marco have developed six short films that have been screened and awarded in several film festivals around the world. In 2017, their latest film, Pedro, was the first Portuguese short film to be selected for the Short Film competition at the Sundance Film Festival. They are currently writing their first feature film, Nowhere, and are in pre-production on a feature experimental documentary, set in the Aokigahara forest in Japan, both under the support of the Portuguese Cinema Institute.
Salomé Lamas - Fatamorgana (Portugal)
Salomé Lamas is a filmmaker and artist based in Lisbon. She studied cinema in Lisbon and Prague, received an MFA in Amsterdam and is a Ph.D candidate in Contemporary Art Studies in Coimbra. Her work has been screened both at art venues and film festivals such as Berlinale, Museum of Moving Images NY, MoMA, Tate Modern, Hong Kong Film Festival, Fid Marseille, Vision du reel, among others. She collaborates with the production company O Som e a Fúria and is represented by Miguel Nabinho Gallery - Lisboa 20.
Stavros Pamballis - My Friend Goliath (Cyprus)
Stavros Pamballis is a filmmaker and heavy metal nerd based in Nicosia, Cyprus. Though he mainly works as a screenwriter, his first feature as writer-director, The Siege on Liperti Street, is heading into production in early 2018, with support from Cyprus' Ministry of Culture and the Greek Film Centre.