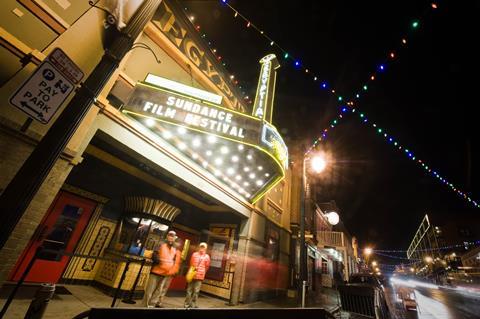 Kicking off on Thursday (24), Sundance Film Festival offers the first real opportunity of 2019 for buyers – be they established, reconfigured, reinvented, or simply new – and sellers to test the waters on a new crop of material and get a sense of what might register with industry and audiences in the months ahead.
International sales agent in attendance will then have to scramble across the Atlantic to attend the Berlinale and EFM market. A dovetailing of scheduling eccentricities means there are only four days between the end of Sundance and the start of Berlin.
Sundance was dated later than usual to avoid a Martin Luther King Jr holiday that fell on January 21, and the festival ends on February 3. With no Winter Olympics to contend with this year, the Berlinale and EFM film market launch on February 7 in the more familiar early February slot.
There has been griping from some international sales agents that the narrow gap will make it hard to negotiate for international rights and prepare materials for EFM buyers should a US representative hold out for a worldwide deal with a studio or streamer. Time will tell. Most international sellers will already be well into finalising their EFM slates and besides, few of them stay much beyond the first few days of Sundance, by which time a tricky negotiation might well have thawed.
New heavy-hitters in town
Park City's front-loaded screening schedule of acquisition titles will create the usual early buzz and once again the festival is expected to set the pace as indie tastemaker for the year ahead. The US distribution landscape never stays still for long. Now that Netflix and Amazon Studios have shown they are not as eager as they once were to snap up handfuls of films at Sundance as they focus on their production mandates, others can flex their muscles. And there are new heavy-hitters in town.
Sources expect action from Apple. And while this has been a common refrain for two or three years that ultimately has not born fruit, there is the sense that if as reported the platform is launching in the first half of the year, the digital giant might well have to get its wallet out if it sees something it likes.
Buyers from Hulu and upcoming platforms from Disney, WarnerMedia and NBCUniversal are also likely to be on the ground scouring for content, joined perhaps by Viacom, which has just agreed to buy free US streaming platform PlutoTV for $340m.
On the more traditional side there are a several new theatrical players. The Weinstein Company president and COO David Glasser is back with his 101 Studios venture and will be in Park City before he heads to Berlin with international sales chief Ennis Hensley. And the industry will watch to see what Tom Ortenberg's Briarcliff Entertainment does.
On the other hand, changes in fortune mean that CBS Films is now basically a feeder for parent company CBS Entertainment Group's digital platforms. There will be lay-offs, as there were earlier this month at Lionsgate. Of course that studio remains a vibrant and dynamic film operation, although it did not enjoy a strong 2018 and observers will be curious to learn how its consolidation plan might impact, however subtly, the profile and volume of acquisitions. The death of Mark Urman, an indie stalwart who regularly attended Sundance, begs the question what will happen to Paladin Films, the company he launched 10 years ago.
Quite a lot of this year's crop of Sundance entries arrive with distribution in place (Bleecker Street just announced its North American deal on The Tomorrow Man), but there will be plenty to pick over. The risks inherent in US distribution have not diminished and the usual caveats about timing, P&A spend, audience taste and attention, and recoupment apply. New or below-the-radar players looking to make a statement buy will be mindful that last year NEON partnered with AGBO in a $10m-plus worldwide deal on Assassination Nation. Eight months later the film opened at number 15 on $2m and vanished from sight.
Arguably one of the best buys of Sundance 2017 was John Cho mystery Searching, which Sony Pictures Worldwide paid $5m for in a global rights deal and turned into a $75m worldwide hit. Besides that, many of last year's acquisitions delivered low to modest box office returns.
The perennial hope is distributors, sales agents, producers and financiers learn from the box office successes and failures of the past and take extra care when they huddle, sleep-deprived, in some high net worth individual's ski lodge all night, hearing sales pitches or weighing up offers and hastily conceived marketing plans.
'If the right film speaks to distributors or streamers they will pay'
"If the right film speaks to a number of distributors or streamers, I believe they will pay what it takes to get the film," says UTA Independent Film Group partner and co-head Rena Ronson, whose sales slate includes Peter Sarsgaard drama The Sound Of Silence, which premieres on Saturday in US Dramatic Competition. "Many of the distributors are looking for the same thing, a Call Me By Your Name, Big Sick, or Manchester By The Sea – films that have commercial and awards potential."
Ronson continues: "Distributors are going to come in with the realisation that the Netflix and Amazon presence is still there, but as they've become fully fledged studios confident in their ability to produce, and they don't have to acquire, hopefully that opens up space for other distributors to be competitive."
UTA Independent Film Group also represents Big Time Adolesence, which premieres on Monday in US Dramatic Competition. It is the second film from the American High joint venture between financier-producer Mickey Liddell and writer-producer Jeremy Garelick to make John Hughes-esque high school comedies. Garelick, who wrote The Wedding Ringer, bought an abandoned high school in New York and let director Jason Orley shoot there. Their first film, Banana Split, played at the Los Angeles Film Festival last year.
"The heyday of the massive acquisitions by Amazon Studios and Netflix ruled out independent distributors from being able to compete on that level," says Amy Beecroft of Verve Ventures. "[Now that that has cooled down] the playing field has opened up again. Netflix has an unbelievable amount of content they have to generate and their focus has became more on original content, although I have a sense that for the right project they will be contenders in the acquisitions space."
"For the films with the higher budgets it's important they sell and the investors either recoup in full or have a path to recoupment with the release strategy," says Jessica Lacy, partner and department head, international and independent film, at ICM Partners. "Some of the films we represent have much smaller budgets so it's more about the distribution plan: is this something that will be seen? It's not necessarily a traditional theatrical [release] for some of them. For me, especially if it's a first-time filmmaker, the brand is important."
Lacy and her team got on board two films early and helped arrange financing. Corporate Animals (Tuesday) a North American co-rep with UTA Independent Film Group, screens in Midnight and is represented internationally by Protagonist Pictures. Sunlit Night (Saturday) is a North American co-rep with Endeavor Content and screens in Premieres. Mister Smith handles international sales.
'You go in with the best-laid plans and then you adapt'
"You go in with the best-laid plans and then you [adapt]," says Peter Saraf, a Sundance veteran whose Little Miss Sunshine remains one of the great acquisitions success stories of Sundance. This year Saraf has the US-China drama The Farewell starring Awkwafina, which Endeavor Content and UTA Independent Film Group represent for the US and Endeavor Content handles for international and, though different in subject and tone, could catch a post-Crazy Rich Asians wave. It premieres in US Dramatic Competition on Friday.
"You have to be reactive to what the market tells you the appetite is," Saraf continues. "If they offer a huge MG, that's great. Maybe there's more of an upside – you look at the different scenarios, but at the end of the day your modelling has to be a little bit reactive to what the market is telling you."
As the industry comes to terms with the game-changing impact of streaming platforms, agents and savvy producers have in many cases adapted to a platform-agnostic approach. "What we have learned is that working with distributors who understand how to market a film in this landscape is ultimately what matters," says tech entrepreneur and Valparaiso Pictures founder David Carrico, who produced The Sound Of Silence. "Whether it's a more commercial company or a streamer like Netflix, we're open-minded."