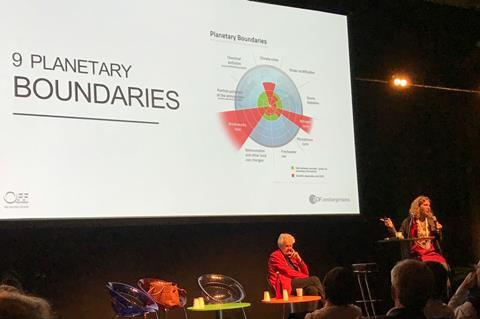 Sunny Side of the Doc kicked off today (June 24) with a rallying cry from Off The Fence founder Ellen Windemuth for documentary makers to be part of the solution in tackling the environmental crisis.
Windemuth is honorary president of the 2019 Sunny Side documentary market, which this year has a theme of 'Stand up for Science' – and is calling on the documentary community to produce strong films to "counterbalance the communications methods that many governments and pressure groups use to achieve economic growth without compassion for humans, plants or animals."
Delivering Sunny Side's opening keynote, Amsterdam-based Windemuth said producers such as Off the Fence had "made a very good living" by translating science into nature and wildlife films.
But now, she explained, it is time for producers to use all the knowledge that they have accumulated in making science programming, and take a more active role in addressing issues such as the loss of biodiversity, air pollution, plastic waste, and rising temperatures.
She said filmmakers needed to tackle complex issues such as how the West's recycled waste is sold to South East Asian countries and dumped in landfills, how air pollution is killing millions around the world, or how governments and businesses are failing to meet the Paris Climate Accords, due to a lack of proper scrutiny.
"We have been sold the wrong thing. We have been sold images of starving polar bears, but we have not been told that non-adherence to the Paris Accords is affecting you and me every day. We have massive, massive air pollution, and governments who are unable stop subsidising our heavy polluters."
Windemuth said filmmakers would need to work together with a much wider range of partners to fund such documentaries. "We need more stakeholders, more co-productions, with more broadcasters, and different production companies working together.
"It doesn't matter if we make a smaller margin. If we have more stakeholders, we will actually make more good documentaries."
She also called on "depressed doc filmmakers to become activists" to motivate audiences around the world.
"The minute you become an activist you feel completely different about what is happening. If you can yourself experience feeling active, but also then democratise the process of feeling active, you can activate your audience into action."
Speaking on the same platform as Windemuth, Sunny Side of the Doc founder and CEO Yves Jeanneau had banned the sale of water in plastic water bottles from this year's event.
Windemuth's comments were given extra poignancy by the fact that Sunny Side is taking place this week in La Rochelle, France – which is bracing for a heatwave that is expected to see temperatures exceed 40C, potentially breaking the record for June.