Director Katell Quillévéré won prestigious Prix Jean Vigo for her debut feature Love Like Poison.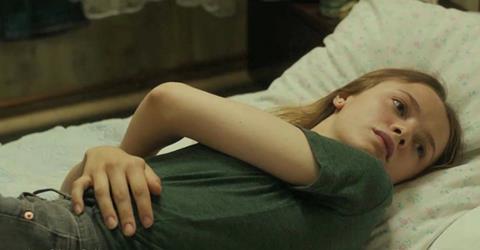 Katell Quillévéré's Suzanne, following the chaotic life of a woman who as a teenager abandoned her newborn son, will open the 52nd edition of the Cannes Critics' Week (May 16-24).
"After Love Like Poison this young French filmmaker returns with a strong, emotionally charged offering," said Critics' Week artistic director Charles Tesson in a pre-taped announcement on the parallel section's website.
"The films follows the destiny of a young woman over a number of years. The realism is heightened by the swirling romance… all the twists and turns engage the audience emotionally. There are superb performances by Francois Damiens, Adèle Haenel and Sara Forestier."
Ten feature-length pictures will screen in the parallel section aimed at first and second films.
Tesson said the selection committee had screened 1,209 films.
He noted, however, that there had been a hike in the number of short films submitted to 1,724 from 1,500 the previous year.
Suzanne will be given a special screening alongside two other titles: David Lowery's western Ain't Them Bodies Saints, starring Casey Affleck, Ben Foster and Rooney Mara, which premiered at Sundance, and Yann Gonzalez' erotic comedy Les Rencontres d'après minuit about a couple who decide to organise an orgy to spice up their life, featuring Eric Cantona, Beatrice Dalle and Alain Delon's son Alain-Fabien Delon in the cast.
The remaining seven features will screen in competition. They include British director Paul Wright's For Those in Peril, produced by Warp Films' Mary Burke, about a young man ostracized by his community following a fishing boat accident and Canadian Sébastien Pilote's Le Démantèlement about a farmer who sells off his farm to help out his daughter financially.
Tesson said this year's selection also boasted a particularly strong short and medium-length selection.
"There are ten strong and original works on intimate or professional relationships between the characters. Ten territories to explore from a Brazilian prison to the endless landscapes of Northern India. Ten different and singular ways of approaching and relating to the world," said Tesson
Tesson highlighted three short and medium length films: Swedish director Ninja Thyberg's Pleasure, set against the backdrop of a porn movie; Emmanuel Laborie's family drama Océan and Nicolas Pariser's Agit Pop revolving around the final issue of a financially ailing cultural magazine.
"Pleasure is a stand-out… a sort of All About Eve for porn movies in which a young model at an erotic photo session seizes the moment to grab the role that could launch her career," said Tesson.
As previously announced, director Miguel Gomes will preside over the jury for the feature-length competition.
Filmmaker Mia Hansen-Love will head up separate juries for the shorts section: one for the best short and a second for the best director.
Founded in 1962, Cannes Critics' Week is the oldest parallel competition selection running alongside the official festival selection. Discoveries during its 51-year-history include Bernardo Bertolucci, Ken Loach, Jacques Audiard and Gaspard Noé.