Sven Nordin will take the lead role in Cinenord and Good Company Films' Nordic noir drama series Wisting.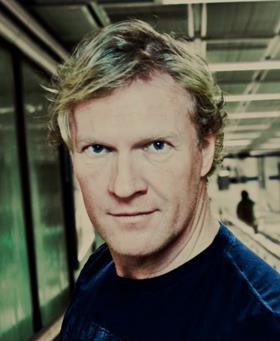 Nordin, whose credits include Valkyrien and Elling, will play homicide detective William Wisting in the Norwegian series based on the best-selling crime books by former police investigator Jørn Lier Horst. The books have sold more than 1.2 million copies in Norway alone and have been translated into 30 languages.
"Wisting is a complex and intriguing person, and I can't wait to portray him. I am a great admirer of the author Jørn Lier Horst and it is with great humility and joy that I embark on this task," said Nordin.
The Norwegian Film Institute is backing the series with $1.3m (NOK 10.5m).
The first season of the series is based on two of the most popular books in the Wisting series, The Hunting Dogs and The Caveman.
Wisting dedicates his life to solving the senseless and vicious murders that shock his small coastal town, but in the process fails his own family. When two mysterious deaths interrupt Wisting's Christmas, it is the beginning of a showdown with the deadliest killer of them all.
Shooting starts in January 2018 on location in southeastern Norwegian twin towns Larvik and Stavern.
Directors on the series will be Trygve Allister Diesen (The Third Eye) and Katarina Launing (Kick It!), with series writers Trygve Allister Diesen and Katrine Valen Zeiner and episode writers Kjersti Ugelstad and Anne Elvedal.
Anni Faurbye Fernandez produces for Denmark's Good Company Films. She was formerly executive producer and CEO of Swedish production company Yellow Bird (Wallander). "The thrilling books of Jørn Lier Horst captivated me from the outset and I am very pleased that we have managed to raise substantial financing, allowing us to realize our vision for this TV series.
The project has great international appeal, and we have received overwhelming interest from foreign broadcasters and distributors," she said.
Producer Silje Hopland Eik from Cinenord added, "We are immensely proud to greenlight a project we so wholeheartedly believe in. Our ambition is to create a Norwegian drama juggernaut, that will last for many seasons."
The series will premiere exclusively on MTG's Nordic video streaming service Viaplay and on TV3 across the Nordic region. German broadcaster ARD Degeto is also on board.
Jakob Mejlhede, MTG EVP and Head of Programming and Content Development, added: "Our ambition is to become the Nordic region's leading producer of original content, and we're honoured that our unique storytelling capabilities have been recognized by the Norwegian Film Institute. Occupied, MTG's first Norwegian Viaplay original, is already thrilling audiences across the Nordic region, and now we're creating another incredible series that showcases Norway's very best creative talents."