AMC Networks' horror-focused SVoD service Shudder, which launched in the UK in October 2016, has picked up six titles ahead of their UK premieres at FrightFest this weekend.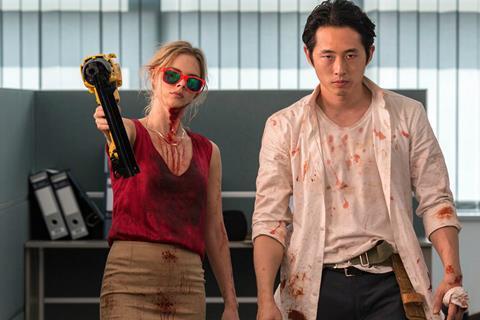 The titles are:
Joe Lynch's Mayhem (above), which premiered at SXSW earlier this year. The streaming service now has all rights in the UK and Ireland, adding to the US streaming rights that it picked up in Cannes.
Chris Peckover's Better Watch Out, on which Shudder has taken North America rights.
Stefan Ruzowitzky's Cold Hell and Graham Skipper's Sequence Break, on which Shudder has taken North America as well as the UK and Ireland.
On Brandon Christianson's Still/Born, Shudder has taken North American streaming rights and all rights for UK and Ireland.
Colin Minihan's It Stains The Sands Red, which Shudder has taken for the UK.
All six films will have UK premieres at FrightFest (Aug 24-28), the London-based horror film festival, and will be available to stream in early 2018.
Shudder VP of global acquisitions and co-productions, Aurelie de Troyer commented: "We are very excited to be bringing Mayhem, Better Watch Out, Cold Hell, Sequence Break, It Stains The Sands Red And Still/Born to members across our territories. All six films are a perfect addition to Shudder's eclectic and ever-expanding slate of exclusive genre films."