Hannes Holm's comedy-drama won three Guldbagges, Sweden's top local film prize.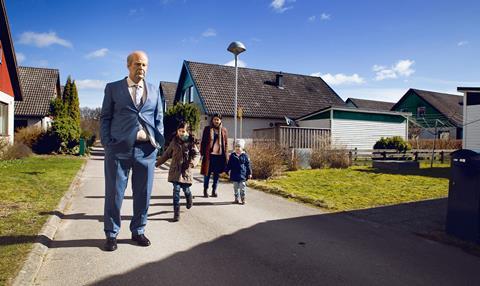 Sweden has selected Hannes Holm's A Man Called Ove as its submission for this year's foreign-language Oscar race.
The film, adapted from Fredrik Backman's bestseller, has been a record-breaking box-office success in Sweden.
The heartfelt comedy-drama is about a cantankerous old man, Ove (Rolf Lassgård), whose very ordered world is shaken when he has to interact with his new neighbours.
"That A Man Called Ove would be selected as the Swedish contribution to the Oscars feels like a fairytale that never ends. It's just fantastic and such an honour," commented Annica Bellander Rune, who produced alongside Nicklas Wikström Nicastro.
Music Box Films has North American rights and will release on Sept 30.
TrustNordisk handles sales and other key distributors are Paradis for France, September for Benelux, Telemunchen for Germany, Silver Box/Russian Report for Russia, Medallion For Japan, HGC for China, and Rialto for Australia/New Zealand.
A Man Called Ove is a Tre Vanner production, in co-production with Film Vast, Nordisk Film, Swedish Television, Nordsvensk Filmunderhallning, Fante Film, with the support of Nordisk Film and TV Fund, Norwegian Film Institute and Swedish Film Institute.
The film has already won three Guldbagges, Sweden's top local film award. Lassgård also won best actor at the 2016 Seattle International Film Festival. The book has just climbed to number 2 on The New York Times bestseller list.
Sweden has historically had a healthy 14 films nominated in the foreign Oscar race, most recently As It Is In Heaven in 2004. The three Swedish foreign-language Oscar winners are Ingmar Bergman's Fanny And Alexander, Through A Glass Darkly and The Virgin Spring.
Last year's Swedish submission, Roy Andersson's Venice Golden Lion winner A Pigeon Sat On A Branch Reflecting on Existence, didn't make the nomination stage. 2014's Force Majeure by Ruben Ostlund made it to the shortlist stage.
Sweden's entry is voted on by a group of local film industry experts.