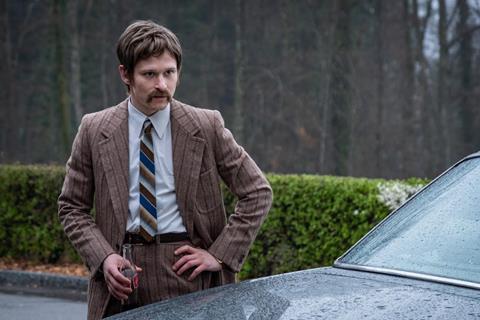 Switzerland's Contrast Film has started production on its most ambitious feature film to date, Storm directed by Oliver Rihs.
Screen can reveal an exclusive first look image from the film, above.
Storm started shooting on April 1 in Switzerland, Germany and Spain. The nine-week shoot will wrap on June 12. In Switzerland, the production shoots in Zurich and in eastern and central Switzerland; in Germany it shoots in the Black Forest and in the studio at Ludwigsburg; and in Spain, in Almeria in Andalusia.
The film has a budget of €4.2m ($4.7m) and is set up as a Swiss-German co-production; Contrast Film's Ivan Madeo, Urs Frey, and Stefan Eichenberger are lead producers, co-producing with Port au Prince Berlin, Niama Film Stuttgart, ARTE, Swiss Television SRF, Bayerischer Rundfunk and Teleclub. Ascot Elite will distribute in Switzerland, with Camino handling German distribution.
No international sales company is confirmed yet but discussions are ongoing.
Swiss actor Joel Basman stars. He was recently in Thomas Vinterberg's Kursk and will next be seen in Terrence Malick's Cannes Competition title A Hidden Life.
The cast also features Marie Leuenberger (The Divine Order) and Jella Haase (Fack Ju Gothe, Alexanderplatz).
The story follows the idealistic lawyer Barbara Hug, fighting the antiquated prison system of the 1980s, who finds an unexpected ally in criminal and the "king of escapes" Walter Storm (Basman).
Madeo told Screen, "The film shows that even in Switzerland, which today is regarded as a modern and stable country, there were times when a repressive state and an inhumane penal system prevailed. This is hard to believe today, but in the 1960s and 1980s the masses took the streets to demonstrate against the fact that Swiss women were still not allowed to vote, unmarried cohabitation was banned, the police set up a mass surveillance system and the state kept secret files of the citizens. Today's Swiss social state was hard-fought for: by idealistic lawyers, protesting youth groups, committed intellectuals. As utopian as their battle cries sounded, they were not in vain. Storm is an entertaining film, yes, but also a source of hope and motivation for many countries that still do not have human rights-compliant policies today."
Key crew includes cinematographer Felix von Muralt and editor Andreas Radtke. Reto Kohler served as historical consultant.
Dave Tucker wrote the script, which is co-written by Oliver Rihs, Norbert Maass, Ivan Madeo, Oliver Keidel.
Rihs' past features include Black Sheep, Dating Lanzelot and Monkey King.
Contrast Film's past productions include Stefan Haupt's The Circle and Hannes Baumgartner's Midnight Runner.