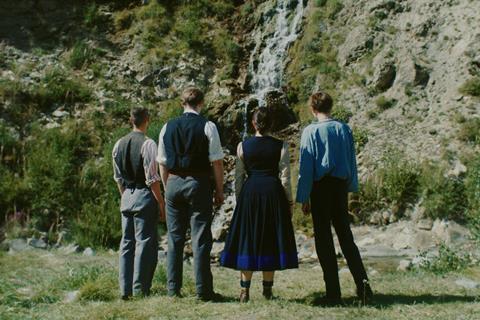 Carmen Jaquier's Thunder has been selected to represent Switzerland in the best international feature film category of the 2024 Oscars.
The announcement was made by Switzerland's Federal Office of Culture at Locarno Film Festival this afternoon (August 4), where the film screens in the Panorama Suisse strand, and is the first title to be announced for the international feature film category of the Academy Awards.
Set in 1900, it follows a 17-year-old girl who is preparing to take her vows at a nunnery when she is summoned home after the mysterious death of her sister. On her return, she begins to rebel against the strictures of village life.
Originally titled Foudre, it marks the feature directorial debut of Jaquier, whose short diploma film The Girls' Grave won the Silver Leopard at Locarno in 2011. Produced by Geneva-based Close Up Films, the film premiered in the Platform strand of last year's Toronto International Film Festival and has played more than a dozen festivals as well as securing a Swiss Film Prize nomination for best film. International sales are handled by WTFilms.
Switzerland has twice won the international feature award: Richard Dembo's Dangerous Moves in 1985 and Xavier Koller's Journey of Hope in 1991. The country has not received a nomination since, with three prior to Dembo's victory.
It marks the first film to be announced for the international feature film category of the Oscars, which last year included submissions from 92 countries and was won by All Quiet On The Western Front for Germany.
Under the rules for the 96th Academy Awards, films submitted for consideration in the category must be theatrically released in the country of origin between December 1, 2022 and October 31, 2023. The deadline for submission is October 2. The 96th Academy Awards is set to take place on March 10, 2024.
Swiss Films previews
Earlier in the day, Swiss Films, the national agency for the promotion of films made in Switzerland, hosted its annual showcase of works in progress before an invited audience of sales agents, distributors and festival programmers.
Five feature film projects which are either completed or in the final stages of post-production were individually presented with a short pitch of the storyline and film excerpts or teaser trailers followed by a Q&A hosted by Swiss Films' head of festivals and markets Andreas Bühlmann.
Xavier Grin of P.S. Productions presented Pierre Monnard's third feature, Bisons (Fierce), featuring Jiu Jitsu fighter Maxime Valvini in his first screen acting role as a young wrestling champion who is dragged into a series of clandestine fights by his brother in a bid to raise money and save the family farm.
The co-production with France's Les Contes Modernes was described by Grin as being "told like a Western away from the usual cliches about Switzerland", with crossover potential between arthouse and mainstream. Ascot Elite Entertainment is set to release the film theatrically in Switzerland in the first quarter of 2024.
Bournemouth Film School graduate Monnard's previous feature, Needle Park Baby (Platz Spitz Baby), was the top Swiss release of 2020 with 330,000 admissions for Ascot Elite – 100,000 admissions more than Christopher Nolan's Tenet.
Also previewed was Nadège de Benoit Luthy's feature debut Life-Size Pauline starring Belgian actress Déborah Francois as a single mother who juggles life between her children and work as a landscape designer where she has to fight for her rightful place among her male colleagues.
Lausanne-based Box Productions' development manager Nicolas Wittwer showed four extracts from the film and the producers are submitting the co-production with Liège-based Tarantula Belgique to festivals for a premiere next year.
Thunder director Jaquier and fellow filmmaker Jan Gassmann were in Locarno with their collaborative project Les Paradis de Diane, starring singer Dorothée de Koon and veteran French actress Aurore Clément, which was made before the pandemic and is expected to be completed by the end of this year.
The production by Gassmann's 2:1 Film was shot before Thunder and Gassmann's 99 Moons, which premiered in Cannes' ACID section in 2022.
Footage from another first feature, Last Party, was shown by Nicolas Dozol who directed, co-wrote and produced the film through his Geneva-based outfit Lights Rush.
The screenplay, co-written with Chloé Vittenet, Paul Tomasini and Leah Ladoux, centres on four teenagers at a graduation party in the midst of an existential crisis as they step from teenage to adult life and wonder if this might be their last night.
The showcase was rounded off by Katalin Gödrös' $6.6m (€6m) historical drama Jacob's Horse (working title), which at locations in Switzerland's Ticino canton with a cast headed by former European Shooting Star Luna Wedler, Austria's Valentin Postlmayr, and Swiss actor Max Hubacher who played the award-winning title role in Robert Schwentke's 2017 film The Captain.
The co-production between Zurich-based Turnus Film and the Luxembourg arm of Amour Fou will be released in Swiss cinemas next year by Ascot Elite Entertainment.