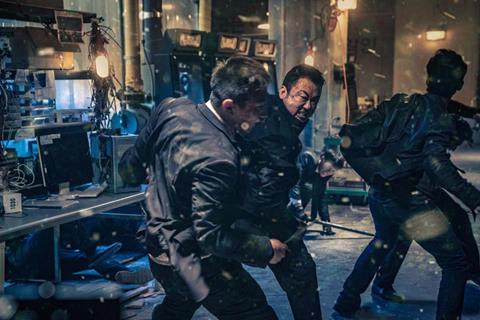 South Korean production company BA Entertainment has reached an agreement with Sylvester Stallone's Balboa Productions for a remake of upcoming Cannes Midnight Screenings title The Gangster, The Cop, The Devil, starring Don Lee, aka Ma Dong-seok (Train To Busan).
In an announcement issued today (May 6), BA Entertainment said that Balboa Productions had noted the film's strong concept, in which an organised crime boss teams up with a police detective to catch a serial killer - after the boss becomes the sole surviving witness and victim to one of the killer's attacks.
Budgeted at $9m, The Gangster, The Cop, The Devil is the second feature from Lee Won-tae following Man Of Will. It stars Don Lee as the gangster, Kim Moo-Yeol (Illang: The Wolf Brigade) as the cop and Kim Seong-gyu (The Outlaws) as the serial killer
The remake will be produced by Stallone and his Balboa Productions co-founder Braden Aftergood (Hell Or High Water) along with BA Entertainment head Jang Won-seok and Don Lee, who is set to play the gangster boss in the Hollywood remake as well.
K-Movie Entertainment, which handles international sales for the original, has already pre-sold the film to a slew of territories including France & French-speaking territories (Metropolitan), Japan (The Klockworx), Germany, Austria and German-speaking Benelux (Splendid Film) and India (Viswass Films)
The sales company today told Screendaily that it is also close to signing a deal for North America, Australia and New Zealand.
The film is set for local release on May 15.