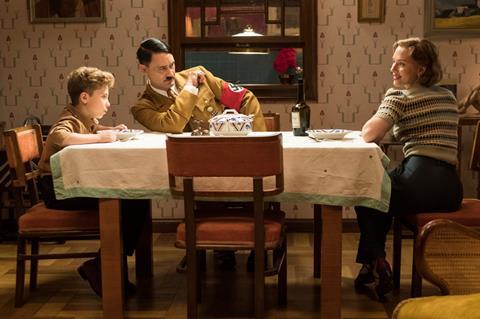 Director Taika Waititi has revealed more details of his upcoming projects Jojo Rabbit and Bubbles.
Waititi told Screen at the Karlovy Vary Film Festival that the Fox Searchlight WW2 comedy Jojo Rabbit, which has three weeks of filming left in Prague, is inspired by the "great satires of the past like Doctor Strangelove or The Great Dictator".
"There's a message behind it, it's very much an anti-war film, it's got a real contemporary feel and contemporary sense of humour to it as well."
He added the success of his previous film Thor: Ragnarok helped get Jojo Rabbit off the ground. He wrote the screenplay in 2011.
"A lot of people were interested before Thor but I'd say definitely because of that film they probably had a bit more faith," he said. "It's a dangerous topic, when you say 'I'm making a WW2 film' the studios go 'oh god not another one', but this one is so different, so weird and has this Pythonesque style to it. I think because of all the films I've made now they really got the tone."
"It was something I'd been trying to make for a long time," he added. "I think this needed a long gestation. After Thor I said I want to make something that I've written and something smaller."
Jojo Rabbit follows a young boy (Roman Griffin) raised in a Hitler Youth camp who questions his patriotism when he realises his mother (Scarlett Johansson) is hiding a young Jewish girl (Thomasin McKenzie). Waititi plays his imaginary best friend, a sympathetic version of Hitler. Sam Rockwell plays the Nazi captain of the kid's youth camp.
On his role as the imaginary Hitler, Waititi said: "I'm not playing Hitler, I'm playing a weird imaginary character who's a goofball. It's more of version of me who happens to have a moustache. I'm doing the accent, but I didn't do much research!"
Waititi is producing Jojo Rabbit with Carthew Neal and Chelsea Winstanley. Kevan Van Thompson is the executive producer.
Bubbles
Waititi also saidt he expects Bubbles, his stop-motion animation about Michael Jackson's pet chimp, to be finished in around two years. "The script's done," he said. "At the moment it's all about character design and trying to cast this thing. It's a different style to what I'm used to doing. To be honest I don't know how long it will take but I imagine it will take two years. It's a good side project to have while I do other things as well."
The film, with Waititi co-directing with Mark Gustafson (Fantastic Mr. Fox), was acquired by Netflix during last year's Cannes Film Festival in a deal worth around $20m. It's based on Isaac Adamson's screenplay that topped the 2015 Black List.