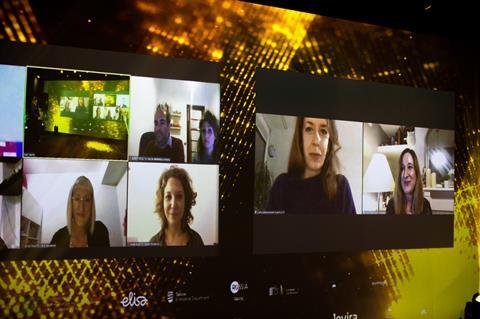 The 2020 Tallinn Black Nights Film Festival has named the winners of its Industry@Tallinn & Baltic Event awards.
The industry showcase was held online this year, with the winners announced yesterday (November 26) following a week of online presentations and networking with around 850 delegates.
Lithuanian writer-director Eglė Vertelytė's second feature film Tasty was named the winner of Screen International's best pitch award, which guarantees coverage on Screen throughout the project's lifecycle, at the Baltic Event Co-Production Market.
The €700,000 comedy focuses on two best friends working in the local canteen, who enter a national TV cooking competition which will challenge not only their cooking skills but also their friendship. The project was pitched by Vertelytė with producer Lukas Trimonis and junior producer Viktorija Cook. It will be produced by the Vilnius-based production company Inscript which Vertelytė and Trimonis, who are both graduates of the UK's National Film and Television School (NFTS).
Vertelytė made her fiction feature debut in 2017 with the tragicomedy Miracle which premiered in Toronto that year and was screened at 50 festivals worldwide.
Previous winners of the Screen International best pitch award have included Juuso Latio and Jukka Vidgren's Heavy Trip, Robert Hloz's Restore Point, and Hamy Ramezan's Any Day Now which was released in Finnish cinemas last month by Nordisk Film.
Eurimages Co-Production Development Award
An international jury consisting of the Czech Republic's Eurimages representative Elena Kotova, Renata Santoro, head of programming at the Venice Film Festival's Giornate Degli Autori, and Finnish producer Kaarle Aho of Making Movies, gave this year's €20,000 Eurimages Co-Production Development Award to Turkish director Zeynep Dadak's film Electric Sleep to be produced by German producer Titus Kreyenberg of Cologne/Berlin-based unafilm.
The second feature by the NYU Tisch School of the Arts graduate after her 2013 debut The Blue Wave aims, in her own words, "to explore the complicated web of relations between technology and humanity, focusing on how capitalism turned sleep into a problem." Set in 2052 in a world of constant daylight where people hardly sleep and never dream, the film will follow a young computer programmer, unravelling the secrets of the new sleep order as she reclaims the night and the forgotten cave of dreams.
The jury said it had been "seduced by the originality of the topic and strongly believes that this talented young female director will manage to integrate a complex multi-layered content into a straightforward genre film".
The award, which takes the form of a non-reimbursable subsidy, must be used exclusively to cover the project development costs, and the decision was based on the project's artistic quality and potential for theatrical release.
The jury also gave two free accreditations for Cannes' Producers Network next May to Irish producer Laura McNicholas of Dublin-based 925 Productions and Marina Naumova of Russia's Garpastum Pictures.
McNicholas had been one of the team pitching Brian Durnin's feature debut Class A set against the backdrop of 1980s working-class Dublin; Naumova had presented Andrey Proshkin's The Beilis Case based on true events in 1911 Kiev when a lowly Jewish clerk Menahem Beilis was charged with the murder of a 12-year Russian boy on the basis of circumstantial evidence.
Works in Progress Awards
Thursday evening's awards ceremony also saw the announcement of prizes for works in progress which had been presented in the Industry@Tallinn and Baltic Event's regional and international showcases.
The international jury of Films Boutique's Isabel Ivars-Sancho, Ilaria Gomarasca, head of First Cut+, Nikolaj Nikitin, artistic director of Febiofest & SOFA head of studies, decided to award both the €10,000 post-production award and € 3,000 Baltic Event works in progress award to four projects instead of the two from previous years.
Two feature debutants were given the post-producion award, sponsored by Helsinki-based Post Control. They wee Estonia's Ove Musting for his sports drama Kalev, produced by Allfilm and Ugri Film, and Russia's Vladimir Munkuev for the psychological period drama Nuuccha set in the remote taiga expanses of Yakut. The latter is produced by Look Film, The Place of Power, and R-Media.
The works in progress award, which aims to help cover the film's promotional and distribution costs in the Baltic States, went ex aequo to Lithuanian filmmaker Ernestas Jankauskas for his comedy drama I Am Fine, Thanks, produced by Dansu films, and to Latvian director Matīss Kaža's drama Neon Spring, set in Riga's techno scene which is produced by Deep Sea Studios.
In addition, Jaak Kilmi's Estonian-Latvian co-production The Sleeping Beast won the Just Film Works in Progress showcase cash prize of €1,000 for promotion and publicity costs.