EXCLUSIVE: A total of 110 films will screen at the festival, including recent Golden Bear-winner Fuocoammare and a selection of Israeli docs.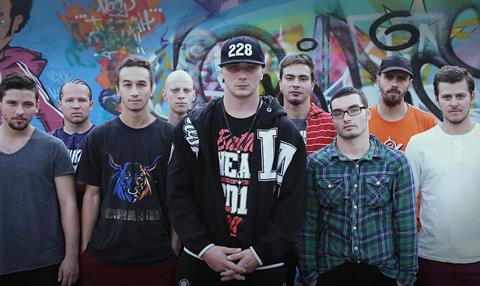 Topics including immigration and instability in the West Bank region will be highlighted at this year's Docaviv international documentary festival (May 19-28) in Tel Aviv, Israel.
Among the 2016 programme is Gianfranco Rosi's Berlin Golden Bear-winning Fuocoammare, Shimon Dotan's Sundance premiere The Settlers and Sean McAllister's BAFTA-nominated A Syrian Love Story.
The festival will open with Babylon Dreamers [pictured], about a group of immigrants from the former Soviet Union who, despite struggling to survive in tough circumstances in Israeli city Ashdod, decide to pursue their dream of entering the International Breakdance Championships.
That film will compete in the festival's Israeli competition, which offers a prize of $18.5k (70k ILS), alongside 12 other titles including films about arranged marriages in Morocco and Yemen (Child Mother), depression-curing shamans in the Amazon rainforest (The Last Shaman), and three Jewish brothers who travel to Italy in search of the cave they hid in as children to escape the Nazis (Shalom Italia).
The international competition will feature 12 titles, amongst them Jerzy Sladkowski's IDFA-winning Don Juan, Pietra Brettkelly's A Flickering Truth, and Ben Nabors's The Happy Film.
The Depth of Field competition, which celebrates daring artistic vision, will feature Sundance winners Robert Greene's Kate Plays Christine and Pieter-Jan De Pue's The Land Of The Enlightened, as well as Rufus Norris and Alecky Blythe's London Road.
The inaugural Masters section, which highlights films from renowned directors, opens with Fire At Sea and will also include Paul Thomas Anderson's Junun and David Guggenheim's He Named Me Malala.
Elsewhere, Louise Theroux's My Scientology Movie will play in the Panorama section and Stevan Riley's BAFTA-nominated Listen To Me Marlon features in the Arts section.