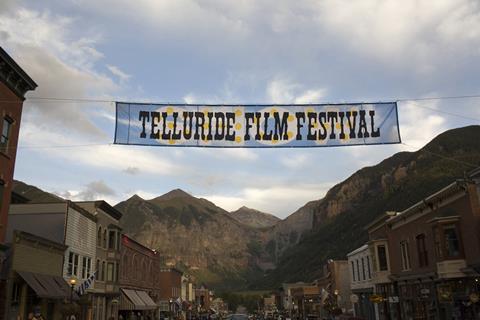 The Telluride Film Festival has joined the growing list of major film events hit by the coronavirus pandemic, cancelling its 47th edition scheduled for September 3-7.
In a letter to potential attendees, the National Film Preserve, which presents the festival in the US mountain town of Telluride, Colorado over the Labour Day holiday weekend, said: "After months of intense due diligence around physically holding an event, we've come to the heartbreaking but unanimous conclusion to cancel this year's Labour Day celebration of film in Telluride. But with a seemingly unending number of new cases of Covid-19 and the national chaos around it, even the best strategy is threatened by this out of control environment."
The festival said it plans to release its line-up in the near future to highlight "the best in film this year." But it made no mention of plans to stage online events as a partial substitute for the physical festival, which has become an important fixture on the festival calendar and a key event at the beginning of awards season.
The Preserve's letter explained that the decision had not been inevitable.
"Until the past week or so, we had a very good plan to put on the SHOW safely," the letter explained. "But with a seemingly unending number of new cases of Covid-19 and the national chaos around it, even the best strategy is threatened by this out of control environment. No matter how much many of us wear our masks and observe social distancing protocols, the pandemic has worsened rather than improved and the health and safety of you - our pass holders, filmmakers, the people of Telluride and its surrounding areas - cannot be compromised."