First look at stars Agyness Deyn, Peter Mullan and Kevin Guthrie filming on location.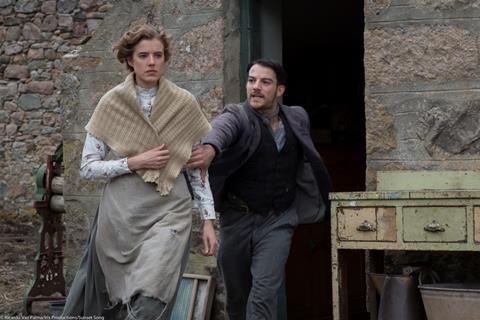 Director Terence Davies has begun principal photography in Scotload on Sunset Song, a film adaptation of Lewis Grassic Gibbon's 1932 classic novel.
The feature, produced by Hurricane Films, IRIS Productions and SellOutPictures, stars Agyness Deyn, Peter Mullan and Kevin Guthrie.
Fortissimo Films is handling the international distribution rights for the film.
The shoot began in New Zealand, to capture the March harvest season, followed by interior work at Filmland in Luxembourg. The UK-Luxembourg co-production is now completing a key period of production in Scotland.
The story is set in the early 20th Century in north-east Scotland, where Agyness Deyn plays a young woman coming of age as her family is beset by tragedy, all during a time of great social upheaval and unrest. The effects of the First World War brings the modern world to bear on the community in the harshest of ways.
To capture the landscape, the filmmakers have chosen to shoot on 65mm film, a creative decision that the producers say "will ensure depth, clarity and emotional impact on the screen".
Sunset Song is a UK/Luxembourg co-production financed by Luxembourg Film Fund, the BFI Film Fund, Creative Scotland, BBC Scotland and private equity. The film is being produced by Hurricane Films duo Roy Boulter and Sol Papadopoulos, together with Nicolas Steil from IRIS Productions and Bob Last of SellOutPictures. Lizzie Francke is the BFI Film Fund executive on the project.
Liverpool-based Hurricane Films is currently developing a further Davies project, A Quiet Passion, based on the life of Emily Dickinson, with Cynthia Nixon attached to play the lead.
Sunset Song marks the fifth film with Scottish roots that the BFI Film Fund has supported after Under The Skin, Sunshine On Leith, The Angels' Share and For Those In Peril.