London-based Asian film festival to open with the UK premiere of Erik Matti's On the Job and features a focus on the Philippines.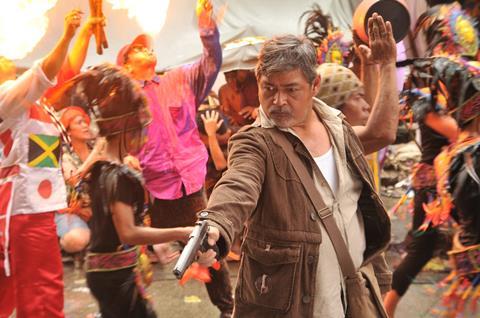 The sixth Terracotta Far East Film Festival (TFEFF), one of the UK's biggest showcases for contemporary Asian cinema, is to open with the UK premiere of Erik Matti's On the Job, which debuted at Directors Fortnight during the Cannes Film Festival 2013.
The festival, which will be held in two central London venues from May 23 to June 1, will comprise 24 films. It will close with the international premiere of Judge!, attended by director Akira Nagai.
TFEFF's Spotlight On section will focus on the Philippines and director Matti will attend the opening ceremony of the strand with his film, On the Job.
The spotlight strand will be hosted by the Institute of Contemporary Arts (ICA) from May 23-27, which will also feature a double bill dedicated to award-winning Filipino actor Felix Roco. He will present the European premiere of A Thief, A Kid and a Killer with director Nathan Adolfson and Shift, in which a tomboyish call center agent falls for her openly gay co-worker.
The festival will also launch local dark comedy Tuhog on the international circuit. In addition, there will be special screenings of experimental film by Raya Martin and the history of Filipino B-films, as told through filmmaker Andrew Leavold's quest to find the truth behind small James Bond superstar Weng Weng in The Search for Weng Weng.
The festival will then relocate to Prince Charles Cinema from May 28 to June 1 its usual sections.
The Current Asian Cinema section will showcase content from throughout East Asia including the European premiere of Commitment starring kpop rapper T.O.P. to the return of Kim Ki-duk with Moebius; a Mongolian-Germany production Remote Contol, low-budget Japanese indie youth drama Be My Baby and the return of Thai kicking duo Prachya Pinkaew and Tony Jaa for Warrior King 2.
Action and martial arts features include Jackie Chan's Chinese Zodiac, Donnie Yen's Special ID, Andy Lau's Firestorm and Nick Cheung's Unbeatable.
The festival will also include the Terror Cotta Horror All-Nighter, with films from Takashi Miike, Erik Matti and the Mo brothers's.
Events will include guest Q&As and free masterclasses by filmmakers.
Festival director Joey Leung said: "Our festival team have worked tirelessly over the last few months to bring yet another great event where film lovers can see quality Asian cinema on the big screen (the majority of which are premieres), enjoy talent masterclasses, and mingle with actors and directors at our parties."
FULL LINE-UP
CURRENT ASIAN CINEMA
JUDGE! , Akira Nagai, comedy, Japan 2014, International Premiere, closing film , Q&A with director Akira NAGAI
SPECIAL ID, Clarence FOK YIU-LEUNG, Donnie YEN , Action Martial Arts, Hong Kong China 2013
FIRESTORM, Alan YUEN, action-police drama, Hong Kong 2013, UK Premiere
UNBEATABLE, Dante LAM, action boxing drama, Hong Kong 2013, UK Premiere
FOREVER LOVE, Toyoharu KITAMURA, Aozaru SHIAO, Comedy Drama, Taiwan 2013, UK Premiere
WARRIOR KING 2, Prachya PINKAEW, Action Martial Arts, Thailand 2013, UK premiere.
BE MY BABY, Hitoshi ONE, love'n' lies drama, Japan 2013, UK Premiere
THE SNOW WHITE MURDER CASE, NAKAMURA Yoshihiro, web crime drama, Japan 2014 UK Premiere
THE FACE READER, HAN Jae-rim, period drama, South Korea 2013, UK Premiere
MOEBIUS, KIM Ki-duk, drama, South Korea 2013, UK Premiere
COMMITMENT, PARK Hong-soo, thriller, South Korea 2013, European Premiere
REMOTE CONTROL, Byamba SAKHYA, drama, Mongolia, Germany 2013, UK Premiere
TERROR COTTA HORROR ALL-NIGHTER
LESSON OF EVIL, Takashi Miike, Horror thriller, Japan 2012
TIK TIK: THE ASWANG CHRONICLES, Erik MATTI, Horror, Philippines 2012
IN THE DARK, Joon Han YEO, Horror, Malaysia 2014, European Premiere
KILLERS, Kimo STAMBOEL, Timo TJAHJANTO, Horror Thriller, Japan Indonesia 2013
SPOTLIGHT ON: THE PHILIPPINES
ON THE JOB, Erik MATTI, thriller Philippines 2013, UK Premiere, Q&A with director Erik MATTI
A THIEF, A KID AND A KILLER, Nathan ADOLFSON, crime drama, Philippines 2013 European Premiere, Q&A with director Nathan ADOLFSON, producer Gene LACSON, actor Felix ROCO
SHIFT, Siege LEDESMA, metropolitan romantic comedy, Philippines 2013, UK Premiere, Q&A with actor Felix ROCO
THE SEARCH FOR WENG WENG, Andrew LEAVOLD, documentary, Australia-Philippines 2013, UK Premiere, Q&A with director Andrew LEAVOLD
TUHOG, Veronica VELASCO, Drama, Philippines 2013, International Premiere
HOW TO DISAPPEAR COMPLETELY, Raya MARTIN, experimental, Philippines, 2013, UK Premiere