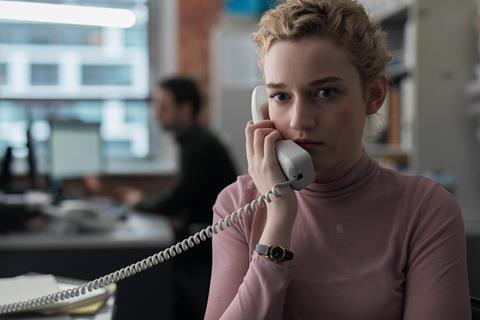 UK streaming platform Curzon Home Cinema (CHC) has recorded its biggest weekend to date following the early digital release of Harvey Weinstein-inspired drama The Assistant.
The film, starring Julia Garner (Ozark), helped the platform generate a 7.4% revenue boost on its previous best weekend and was 340% up on CHC's equivalent weekend in 2019.
It marks an ongoing success story for the streaming platform, which has seen a consistent rise in figures following the closure of all cinemas in mid-March as a result of the Covid-19 pandemic.
Vertigo Releasing was set to release The Assistant theatrically in the UK on April 3 but the distributor chose to make the film available on digital platforms from May 1 due to the virus crisis. Curzon also stated it was the platform's biggest three-day opening for a third-party title.
Marking the debut narrative feature of Kitty Green (Casting JonBenet), the film follows an ambitious young woman (Garner) who works for a powerful film producer.
CHC's top 10 titles for May 1-3 were:
The Assistant (2019)
Moffie (2019)
Who You Think I Am (2019)
White Riot (2019)
Portrait of a Lady on Fire (2019)
The Truth (2019)
Diana Kennedy: Nothing Fancy (2019)
Calm with Horses (2019)
Knives Out (2019)
The Perfect Candidate (2019)
Mubi, BFI Player top titles
UK-based Mubi, which operates as an international streaming platform and distributor, declined to share exact figures but revealed its highest performing titles for the previous week.
The platform's best performing film of the week was Pablo Larraín's Ema, on which Mubi teamed with Music Box Films to present a free preview on May 1.
Mubi's top 10 for April 27 to May 3 were:
Ema (2019)
Portrait Of A Lady On Fire (2019)
Coffee And Cigarettes (2003)
Water Lilies (2007)
Ran (1985)
Chloe (2009)
Mr Klein (1976)
Southland Tales (2006)
The Whalebone Box (2020)
Biutiful (2010)
While the British Film Institute also did not reveal figures for its streaming platform, BFI Player, it did share the most-watched titles from April 27 to May 3:
Subscription
Romance (1999)
Picnic At Hanging Rock (1975)
Bait (2019)
Paris, Texas (1984)
Breathless (À Bout De Soufflé) (1960)
Belle De Jour (1967)
Le Mépris (1963)
Winter Sleep (2014)
Appropriate Behaviour (2015)
Immoral Tales (1974)
Rentals
Calm With Horses (2019)
The Assistant (2019)
Knives Out (2019)
And Then We Danced (2019)
In The Cut (2003)
Mr. Jones (2019)
La Belle Époque (2019)
A Guide To Second Date Sex (2020)
Bound (1996)
The Street (2019)