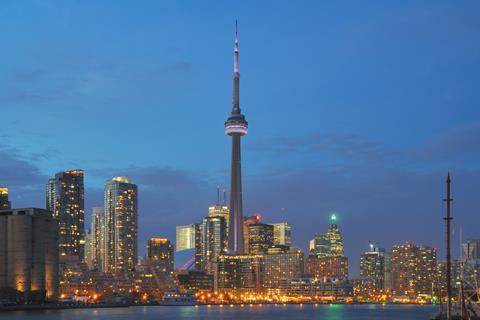 The latest projects from producers of French Exit and The Babadook are among the roster at the virtual 15th Ontario Creates International Financing Forum (iff) set to run from September 13-14.
The co-financing and co-production market takes place in association with Toronto International Film Festival (TIFF) and serves international and Canadian producers developing mostly English-language projects.
The two-day schedule includes networking opportunities for producers with international sales agents, financiers, distributors, agents, and executive producers, as well as an exclusive state-of-the-industry panel discussion, producer drop-in sessions, and access to a TIFF case study on co-productions.
This year's 40 participating feature film producer teams and projects feature 20 Canadian producing teams from British Columbia, Manitoba, Ontario, Quebec, and Saskatchewan, and 20 international teams from the UK, Australia, Brazil, France, India, Latvia, Lebanon and the US, among others.
The roster of participants includes 44 female producers out of 73 in total.
Selected iff 2020 Ontario and Canadian producers / projects include: Damon D'Oliveira and Clement Virgo from Conquering Lion Pictures with romantic thriller Jamaica Farewell, to be directed by Virgo (Empire, Billions, The L Word, The Wire); Quebec producer Robert Lacerte (Antigone, The Fireflies Are Gone) of ACPAV, and Quebec producer/director, Adrian Wills (Netflix Original Drama 21 Thunder) with French-Canadian police drama Le Silence; and Ontario producers Jennifer Holness and Lora Campbell of Hungry Eyes Media (Home Again) with dystopian thriller 40 Acres, written and to be directed by, R.T. Thorne (creator/director, Hulu's Utopia Falls).
The Canadian contingent includes: British Colombia producers Marie Clements of Marie Clements Media (Red Snow) and Trish Dolman (French Exit) of Screen Siren Pictures with Tombs, an Indigenous project set in 1950s and 1970s US to be directed by Indigenous director Clements; Ontario producers Sonya di Rienzo (Propaganda: The Art Of Selling Lies,) and Austin Wong of Hawkeye Pictures and executive producer Aeschylus Poulos with Korean family comedy/drama, The Banquet, to be directed and written by Korean/Canadian, Gloria Kim; and Ontario producers Katie Bird Nolan and Lindsay Tapscott (The Rest Of Us) of Babe Nation Films, with female relationship drama Alice, Darling to be directed by UK-based, Mary Nighy (BBC series Traces, upcoming HBO series Industry).
Selected iff 2020 international producers / projects include:
Australian producers Angie Fielder and Polly Staniford of Aquarius Films (Lion) with period drama-romance The Last Painting Of Sara De Vos by screenwriter Laura Jones (Portrait Of A Lady, Angela's Ashes, Oscar And Lucinda); UK producers Helen Simmons and Stephanie Aspin of Erebus Pictures with darkly comic political thriller Klokkenluider, written and to be directed by Neil Maskell, and set to star Tom Burke (The Souvenir), Asim Chaudhry (People Just Do Nothing), Sura Dohnke (Happy New Year, Colin Burstead), Roger Evans (Da Vinci's Demons), with Ben Wheatley on board as executive producer (Rebecca, High-Rise); Australian producers, Kristina Ceyton and Samantha Jennings of Causeway Films (The Babadook; The Nightingale, Buoyancy) with drama Stolen, set in the Australian outback and written and to be helmed by Indigenous Australian writer/director Catriona McKenzie.
The international list includes US producer Summer Shelton of Story Farm (Maine, People Places Things) with producer/director Jennifer Gerber's semi-autobiographical drama Has Been Beauty Queen); Brazilian Producers Fabiano Gullane and Laura Rossi of Gullane (The Traitor) with tragic romantic adventure Neon River to be directed by Karim Aïnouz (The Invisible Life of Eurídice Gusmão) and written by Sérgio Machado, George Walker, Karim Aïnouz, and Toby Finlay; Australian producers Gal Greenspan and Katy Roberts of Sweetshop & Green (Menashe) with drama No Friend But The Mountains to be directed by Rodd Rathjen (Buoyancy); and UK and US producers, Amelia Baker and Iris Torres of Blonde Mamba with Gen Z-oriented drama Art Of Love to be directed by Peter Gold from a screenplay by Betsy Franco, with executive producers, Kari Skogland (Handmaid's Tales) and Nic Sheff (Beautiful Boy).
Thirty-six international industry executives will take part in one-on-one meetings with producers on the digital platform. New companies this year include Amazon Studios, Elle Driver, Raven Banner, The Match Factory, WaZabi Films, and WestEnd Films, alongside returning companies such as Bankside Films, Bleecker Street, Celluloid Dreams, Cinetic Media, Cornerstone Films, Maven Screen Media, Magnolia Pictures/Magnet Releasing, and StudioCanal
Since 2006, more than 100 projects launched at the forum have gone on to find financing, such as TIFF premieres Castle In The Ground, Sharkwater Extinction, Maudie, and Incendies.
Forum founding partners are: Telefilm Canada and the U.K. Department for International Trade (DIT), joined by new Gold sponsors Edinburgh International Film Festival and Scotland is Now.
Click here to read the full selection of Ontario Creates iff 2020 producers and projects.