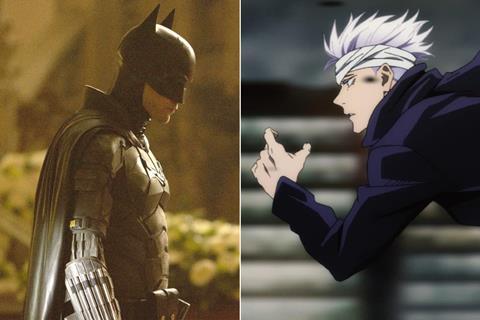 | | | | | |
| --- | --- | --- | --- | --- |
| Rank | Film (distributor) | Three-day gross (Mar 18-10) | Total gross to date | Week |
| 1. | The Batman (Warner Bros) | £3.3m | £32.6m | 3 |
| 2. | Uncharted (Sony) | £600,000 | £22.7m | 6 |
| 3. | The Nan Movie (Warner Bros) | £565,016 | £565,016 | 1 |
| 4. | Jujutsu Kaisen 0 (Sony) | £514,000 | £822,000 | 1 |
| 5. | Sing 2 (Universal) | £421,655 | £31.9m | 8 |
GBP to USD conversion rate: 1.31
Warner Bros' The Batman comfortably held on to top spot at the UK-Ireland box office, adding £3.3m to reach a £32.6m total; on a weekend when Sony anime Jujutsu Kaisen 0 was one of the strongest performers.

The Batman dropped 54.8% on its previous session – par for the course this weekend, with sunny weather across much of the UK and Ireland restricting box office takings.
Among superhero films, The Batman has topped 2017's Thor: Ragnarok (£31.1m) and Spider-Man: Homecoming (£30.7m), and is coming up on 2018's Deadpool 2 (£32.9m) and 2007's Spider-Man 3 (£33.6m).
Sony's Uncharted was one of the better-performing holdovers this weekend, falling 45.5% with £600,000 taking it to £22.7m total.
Warner Bros' The Nan Movie, based on the eponymous Catherine Tate character, opened to £565,016 from 511 locations at an average of £1,106.
Seong-Hu Park's anime fantasy Jujutsu Kaisen 0, about a teenager who gains control of a powerful spirit, opened to £514,000 from 337 locations at the weekend for Sony, at an average of £1,525 – a strong showing for a non-English language title. Having taken a sizeable £308,000 from Wednesday and Thursday previews, the film is at £822,000 from five days and will look to cross the £1m barrier this week.
Despite a 48.5% drop on its eighth session, Universal's Sing 2 still took £421,655, and is up to £31.9m total – now 8% up on the £29.5m total of the first Sing film.
Takings for the top five were down almost 50% on last weekend, from £10.7m to £5.4m. Exhibitors will be looking to Michael Bay's Ambulance through Universal (March 25); Paramount's Sonic The Hedgehog 2 and Universal's original animation The Bad Guys (both April 1) to give venues a spring boost.
Phantom opens
eOne's sports comedy The Phantom of the Open started with £394,000 from 629 locations at an average of £626 per site. Including previews, the film has £456,000 in total.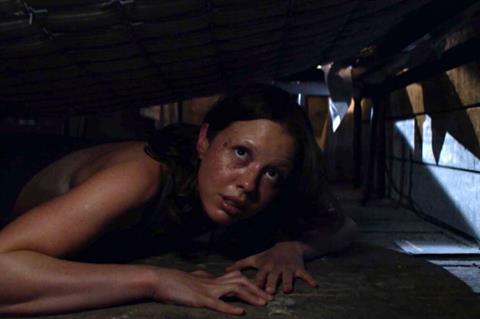 Ti West's horror X opened to £227,502 from 481 sites at an average of £454, for Entertainment Film Distributors.
The Duke recorded its biggest drop so far, falling 54.5% on its fourth session. A £225,913 weekend was still enough to take it past the £4.5m mark for Pathe, which will be looking to crack £5m before the run finishes.
Entertainment Film Distributors also has Channing Tatum title Dog in cinemas, which added £121,401 – a 56.4% drop – to reach a £3.2m total.
Spider-Man: No Way Home added £97,000 on its 14th weekend – a 52.2% drop – and is up to £96.3m. Sony will hope to squeeze a bit more from its blockbuster before the DVD/VoD release on April 4, to take it past the £96.7m of No Time To Die and become the third-highest-grossing film of all time in the territory.
Kenneth Branagh's Death On The Nile dropped 63% on its sixth weekend, with £86,547 taking it to £7.8m total. As another new Disney title, Sundance horror Fresh, landed on the Disney+ platform, the company's next scheduled theatrical release is Doctor Strange In The Multiverse Of Madness on May 5.
Belfast, also directed by Branagh, dropped 55.4% on its ninth weekend, with £63,177 taking it to £15.1m total.
Clifford The Big Red Dog is still in cinemas for eOne, adding £39,000 to reach £9.95m from a lengthy 15-week run.
Bollywood title Gangubai Kathiawadi added £30,000 – a 51% drop – for a £651,000 cume for Paramount.
Jacques Audiard's Cannes 2021 Competition title Paris, 13th District opened to £20,674 from 41 locations at an average of £504; and has a total cume of £55,485 for Curzon.
Sean Baker's Red Rocket took a 71.4% hit on its second weekend, with £20,634 moving it to a £150,983 cume for Universal.
Ali & Ava added £18,202 on its third weekend for Altitude, and has reached £276,572 total.
Paramount's Jackass Forever fell 71% on its seventh weekend, with £15,000 taking it to £6.26m total. It will end just short of the £6.5m peak for the series, from 2013's Jackass: Bad Grandpa.
Altitude opened Blerta Basholli's Kosovar drama Hive to £5,206 from 18 locations at a £289 average. Including previews, the film has £9,839.
Parallel Mothers added £5,097 on its eighth weekend for Pathe, and is up to £1.3m.
Blue Dolphin Films opened social media horror Followers to £2,082 from 28 locations, with the majority of sites playing one-off screenings.