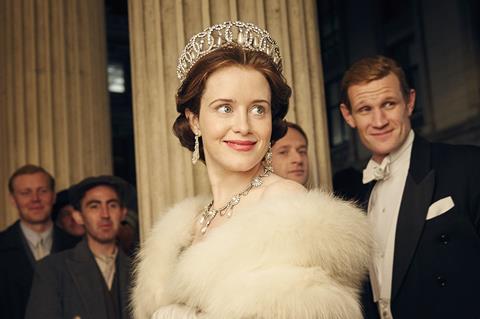 The Producers Guild Of America has unveiled its list of TV nominees ahead of the 29th annual Producers Guild Awards presented by Cadillac set to be held on January 20 in Los Angeles.
Nominees in the episodic drama category include Big Little Lies, which was moved from the limited series category following a second season pick up by HBO, The Crown and The Handmaid's Tale. Netflix's Master Of None and HBO's Veep are among the episodic comedy nominees.
Long-form TV nominees include Black Mirror (season four), Fargo (season three), and Feud: Bette and Joan (season one).
As previously announced Ryan Murphy is set to receive the PGA's Norman Lear Achievement Award.
The nominees for the 29th annual PGA Awards are:
The Norman Felton Award for Outstanding Producer of Episodic Television, Drama:
Big Little Lies (Season 1)
The Crown (Season 2)
Game Of Thrones (Season 7)
The Handmaid's Tale (Season 1)
Stranger Things (Season 2)
The Danny Thomas Award for Outstanding Producer of Episodic Television, Comedy:
Curb Your Enthusiasm (Season 9)
The Marvelous Mrs. Maisel (Season 1)
Master Of None (Season 2)
Silicon Valley (Season 4)
Veep (Season 6)
The David L. Wolper Award for Outstanding Producer of Long-Form Television:
Black Mirror (Season 4)
Fargo (Season 3)
FEUD: Bette And Joan (Season 1)
Sherlock: The Lying Detective
The Wizard Of Lies
The Award for Outstanding Producer of Non-Fiction Television:
30 For 30 (Season 8)
60 Minutes (Season 50)
Anthony Bourdain: Parts Unknown (Season 9, Season 10)
Leah Remini: Scientology and the Aftermath (Season 1, Season 2)
Spielberg
The Award for Outstanding Producer of Live Entertainment & Talk Television:
Full Frontal with Samantha Bee (Season 2)
Jimmy Kimmel Live! (Season 15)
Last Week Tonight With John Oliver (Season 4)
The Late Show With Stephen Colbert (Season 3)
Saturday Night Live (Season 43)
The Award for Outstanding Producer of Competition Television:
The Amazing Race (Season 29)
American Ninja Warrior (Season 9)
Lip Sync Battle (Season 3)
Top Chef (Season 14)
The Voice (Season 12, Season 13)
The Award for Outstanding Short-Form Programme:
Better Call Saul's Los Pollos Hermanos Employee Training (Season 1)
Carpool Karaoke (Season 1)
Humans of New York: The Series (Season 1)
National Endowment for the Arts: United States of Arts" (Season 3)
Viceland at the Women's March (Season 1)
The Award for Outstanding Sports Programme:
All Or Nothing: A Season With The Los Angeles Rams (Season 2)
Hard Knocks: Training Camp With The Tampa Bay Buccaneers (Season 12)
Real Sports With Bryant Gumbel (Season 23)
Sportscenter With Scott Van Pelt (Season 3)
Vice World Of Sports (Season 2)
The Award for Outstanding Children's Programme:
Doc McStuffins (Season 4)
Nickelodeon Kids' Choice Awards 2017
School Of Rock (Season 3)
Sesame Street (Season 47)
SpongeBob SquarePants (Season 10, Season 11)