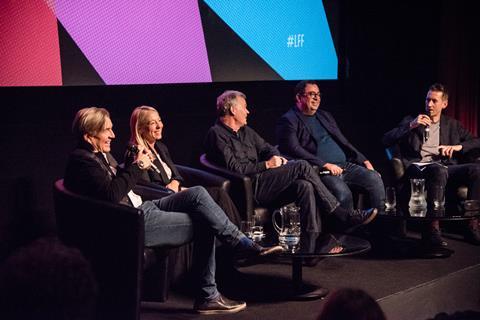 Andy Harries, CEO of The Crown production outfit Left Bank Pictures, voiced concerns about the increasing power of streaming companies in relation to independent producers at a panel discussion about high-end TV at the BFI London Film Festival (LFF) on Tuesday, October 8.
Discussing how Netflix compares to the large Hollywood studios of the past, Harries said: "The more worrying trend that alarms all of us is the increasing desire for streamers to not only own their own shows but actually to initiate the IP in bringing ideas to production companies."
"That doesn't work for us terribly well, because obviously we get a lot less money. We become producers for hire, producers on the lot – I don't think any of us want to do that."
Left Bank brought writer Peter Morgan's idea for The Crown to Netflix in 2014 and still owns the show, with Netflix having licensed it and provided funding, according to Harries.
"I think the creativity of British television has been forged by people like us being able to work relatively independently, pursuing ideas and getting enough money within the production system to back one's instincts," Harries added.
"If we all end up working for the Americans, I think it would be very sad. There is a trend that way, but I think these things tend to ebb and flow."
Morgan deal
Harries also addressed the deal that Morgan signed last week with Netflix, reportedly worth a high eight-figure amount and lasting at least four years.
Noting that he has to be "philosophical" about the partnership, Harries said "A lot of key talent is being bought up; this is as the Hollywood studios have always behaved. At the moment writers are their main interest – America has always loved writers principally as the people who drive the shows."
Harries made an analogy to a football club, saying: "You might have to sell a striker, and you don't want that striker to go. The fans will say 'how are they going to do without him?' We just have to keep looking for new talent."
He presented an exclusive trailer for season three of The Crown, which launches on Netflix on November 17. The story will pick up in 1964, with Olivia Colman as Queen Elizabeth II, Tobias Menzies as Prince Phillip, and Josh O'Connor as Prince Charles.
'Failing faster'
Panellists alongside Harries included Jane Featherstone, executive producer of Chernobyl through her company Sister Pictures; Lars Blomgren, head of scripted, EMEA at Endemol Shine; and Hakan Kousetta, COO at See Saw Films.
Last week Featherstone launched global production and development company Sister with Elisabeth Murdoch and Stacey Snider, using Sister Pictures as a "foundation stone".
She noted programme makers such as Sister Pictures "are going to succeed faster and fail faster" in the streamer-dominated marketplace.
"Within 24 hours [Netflix] are making their decision about a second series or not. If your series isn't working, that's that."
Blomgren added: "It's always been about ratings, but now it's about new subscribers. When they look at the pitch, they say 'will this drive new subscribers', and that's as important as the ratings."