Sci-fi by Aaron Moorhead and Justin Benson debuted at Tribeca Film Festival.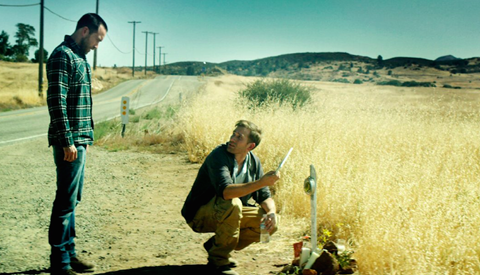 Asia's largest genre film event, the 21st Bucheon International Fantastic Film Festival (BIFAN), awarded its Best Of Bucheon prize to The Endless.
Directors Aaron Moorhead and Justin Benson receive a cash prize of $17,900 (KW20m).
The US sci-fi horror thriller follows two brothers who return to visit what they believe to be a UFO death cult that they escaped at a younger age.
Benson and Moorhead also star and the innovative team has previously been noted for co-directing genre favorites Resolution and Spring.
The Endless made its world premiere at the Tribeca Film Festival and has been snapping up distribution deals since. Read about those here and here.
The Bucheon Choice: Features jury was made up of Train To Busan actor Kim Eui Sung, Sitges International Fantastic Film Festival director Angel Sala, Korean producer Shin Chul (My Sassy Girl), programme director of the Hong Kong Arts Centre Teresa Kwong, and actress-filmmaker Kiki Sugino (Taksu).
Kwong said the decision was reached unanimously.
In its statement, the jury said, "A perfect combination of science fiction ideas translate to the screen with a strange naturalism and sometimes scary minimalism. Benson and Moorhead return to the ground of [their] first feature, Resolution, but this time the equilibrium between arthouse and genre objectives is perfect."
Although the directors left Korea on Wednesday after a full schedule of screenings at BIFAN, they were told of their win "literally a couple hours before they had to leave", according to programmer and NAFF head Thomas Nam.
In a video shot on the Bucheon City Hall lawn, the duo thanked the festival and jury with Moorhead saying, "This is our third year here at BIFAN and it's been an unbelievable spectacle of films."
They additionally noted there was only one trophy and two of them, so jokingly picked up a white dog saying they had been provided with a second prize, "BIFAN", that they hoped would be behave well "on transatlantic flights".
BIFAN opened on July 13 and screened 289 films from 58 countries, closing with Fukuda Yuichi's action adventure comedy Gintama.
The festival has two more days of rush screenings on July 22-23.
FULL FEATURE FILM AWARDS LIST
Bucheon Choice: Features
Best of Bucheon
The Endless (US) dir. Aaron Moorhead, Justin Benson

Jury's Choice
Black Hollow Cage (Spain) dir. Sadrac González-Perellón

NH Audience Award
Mon Mon Mon Monsters (Taiwan) dir. Giddens Ko

Special Mention
Hentaida (I Am a Pervert) (Japan) dir. Anzai Hajime
Korean Fantastic: Features

LG HiEntech Best Korean Fantastic Film
Behind The Dark Night, dir. Shim Chanyang

Korean Fantastic Best Actress
Park Ji-soo, The End Of April, dir. Kim Kwang-bok
Korean Fantastic Best Actor
Oh Ryoong and Ryu Seong Hyun, The Gravity Of Acting, dir. Chung Geunwoong

Korean Fantastic Audience Award
Ryeohaeng, dir. Im Heung-soon
European Fantastic Film Festivals Federation (EFFFF) Asian Award
Godspeed (Taiwan) dir. Chung Mong-hong
NETPAC Award
The Village Of No Return (Taiwan-China) dir. Chen Yu-Hsun
Save Energy, Save Earth Film Award
Robby And Toby's Fantastic Voyager (Germany) dir. Wolfgang Groos
BIFAN Children's Jury Award
The Legend Of Timm Tyler Or The Boy Who Sold His Laughter (Germany) dir. Andreas Dresen