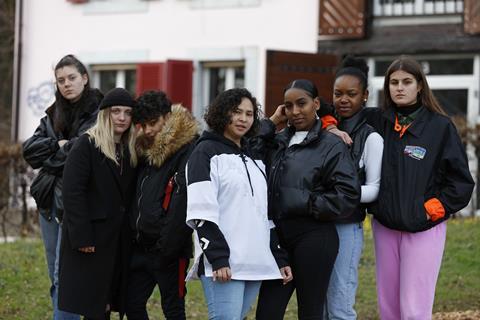 Fred Baillif's Swiss feature The Fam and Han Shuai's Chinese drama Summer Blur have won the grand prix awards in the Berlinale's Generation strand.
Special mentions were given to Dash Shaw's US animation Cryptozoo and Betania Cappato's Argentinian autism drama A School in Cerro Hueso.
The Fam won the grand prix for best film, which includes a cash prize of €7,500 ($9,000), in the Generation 14plus competition.
The drama centres on the residents and staff of a Geneva residental care home for teenage girls, and director Baillif worked closely with real residents and employees to play the characters. Produced by Baillif's own Freshprod and RTS, it is sold by Latido Films.
Summer Blur was awarded the grand prix for best film, also worth €7,500, in the Generation Kplus competition.
Set in Wuhan, the film follows a non-conformist teenage girl who is traumatised by watching a boy drown himself because of her, then pressured into dating another boy. She learns further painful lessons about being manipulated when she enters a film audition in the hope of escaping her small town.
Backed by Factory Gate Films and Dadi Film and co-presented by iQiyi Pictures, the film was shot in Wuhan in 2019 before the outbreak of the Covid-19 coronavirus.
It marks the feature directorial debut of Han and Beijing-based sales agent Rediance handles international sales.
The Generation jury comprised German actress Jella Haase, Dutch director Mees Peijnenburg and German director/writer Melanie Waelde, who watched the 15 films together in Berlin.
The Crystal Bears awarded by the Berlinale Generation children's jury and the youth jury will be announced in an award ceremony during the Berlinale Summer Special in June. A further independent jury, which focuses on the Generation 14plus selection, will also announce their award during the Summer Special.
The festival also revealed its short film winners, from the 20 titles that screened in competition at this year's Berlinale.
The Golden Bear for best short went to Belgian documentary My Uncle Tudor, directed by Olga Lucovnicova, and the Silver Bear Jury Prize was awarded to Chinese drama Day Is Done, by Zhang Dalei.
In addition, animation Easter Eggs, by Belgian director Nicolas Keppens, was named the Berlin short film candidate for the European Film Awards.