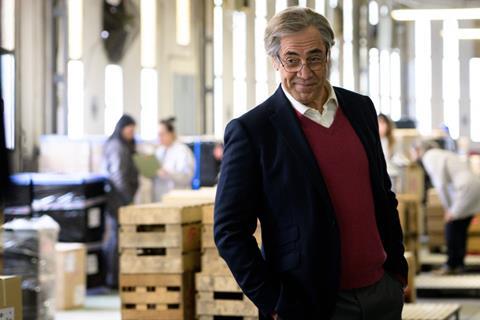 The Good Boss, directed by Fernando León de Aranoa and starring Javier Bardem, led the Goya nominations from the Spanish Film Academy with 20 nods, an all-time record.
The satire, also Spain's entry for the Oscars, is ahead of Icíar Bollaín's Maixabel and Pedro Almodóvar's Parallel Mothers, on 14 and eight nominations respectively.
The Good Boss is the fifth highest-grossing film in Spain this year with €2.6m. Written and directed by León de Aranoa, it follows the petty boss of an industrial scales factory, played by Bardem who is nominated for best actor. Produced by The Mediapro Studio and Reposado PC, it premiered in competition at the San Sebastián Film Festival.
Penélope Cruz is nominated for best actress for her performance in Parallel Mothers. She already earned the Volpi Cup for best actress at the Venice film festival last September. Parallel Mothers is also up for best film, best director and best original screenplay.
Basque terrorism drama Maixabel got 14 nominations, making Icíar Bollaín the only woman in the best director category, and the second, with Clara Roquet, in the best film category with Libertad. Roquet's feature debut, which premiered at Cannes Critics' Week, scored six nominations in all.
The Goya awards ceremony will be held on February 12 in Valencia. The choice of the city honours celebrated Spanish filmmaker and Valencia native Luis García Berlanga (1921-2010).
2022 Goya Nominations
Best Film
The Good Boss (Fernando León de Aranoa)
Libertad (Clara Roquet)
Parallel Mothers (Pedro Almodóvar)
Maixabel (Icíar Bollaín)
Mediterraneo, The Laws Of The Sea (Marcel Barrena)
Best director
Fernando León (The Good Boss)
Pedro Almodóvar (Parallel Mothers)
Manuel Martín Cuenca (The Daughter)
Icíar Bollaín (Maixabel)
Best New Director
Carol Rodríguez Colás (Chavalas)
Javier Marco Rico, (Josefina)
David Martín de los Santos (La vida era eso)
Clara Roquet (Libertad)
Best Original Screenplay
Ferando León de Aranoa (The Good Boss)
Clara Roquet (Libertad)
Icíar Bollaín, Isa Campo (Maixabel)
Pedro Almodóvar (Parallel Mothers)
Juanjo Jiménez Peña y Pere Altamira (Tres)
Best Adapted Screenplay
Júlia de Paz Solvas, Núria Dunjó López (Ama)
Agustí Villaronga (The Belly Of The Sea)
Benito Zambrano, Cristina Campos (Lemon Poppy Seed Bread)
Daniel Monzón, Jorge Guerricaechevarría (The Laws Of The Border)
Best Actress
Penélope Cruz (Parallel Mothers)
Petra Martínez (La vida era eso)
Blanca Portillo (Maixabel)
Emma Suárez (Josefina)
Best Actor
Javier Bardem (The Good Boss)
Javier Gutiérrez (The Daughter)
Luis Tosar (Maixabel)
Eduard Fernández (Mediterraneo, The Laws Of The Sea)
Best Supporting Actress
Sonia Almarcha (The Good Boss)
Nora Navas (Libertad)
Aitana Sánchez Gijón (Parallel Mothers)
Milena Smit (Parallel Mothers)
Best Supporting Actor
Celso Bugallo (The Good Boss)
Fernando Alvizu (The Good Boss)
Manolo Solo (The Good Boss)
Urko Olazabal (Maixabel)
Best New Actress
Ángela Cervantes (Chavalas)
Almudena Amor (The Good Boss)
Nicole García (Libertad)
María Cerezuela (Maixabel)
Best New Actor
Óscar de la Fuente (The Good Boss)
Tarik Rmili (The Good Boss)
Chechu Salgado (The Laws Of The Border)
Jorge Motos (Lucas)
Best Cinematography
The Good Boss
Libertad
Parallel Mothers
Mediterraneo, The Laws Of The Sea
Best Art Direction
The Good Boss
The Laws Of The Border
Parallel Mothers
Maixabel
Best Production Design
El amor en su lugar
The Good Boss
Maixabel
Mediterraneo, The Laws Of The Sea
Best Editing
Bellow Zero
The Good Boss
Josefina
Maixabel
Best Original Score
Celtia Montes (The Good Boss)
Fátima Al Qadiri (The Grandmother)
Alberto Iglesias (Maixabel)
Arnau Bataller (Mediterraneo, The Laws Of The Sea)
Best Sound
The Good Boss
Parallel Mothers
Maixabel
Tres
Best Special Effects
The Good Boss
The Grandmother
Mediterraneo, The Laws Of The Sea
Way Down
Best Animation Feature
Gora Automatikoa
Salvar el árbol
Valentina
Mironins
Best Documentary Feature
The Return. Life After Isis
Héroes, silencio y rock and roll
Quién lo impide
Un blues para Teherán
Best European Film
Bye, Bye Morons (Albert Dupontel)
I'm Your Man (Maria Schrader)
Another Round (Thomas Vinterberg)
Promising Young Woman (Emerald Fennell)
Best Latin American film
La cordillera de los sueños (Patricio Guzmán)
Song Without A Name (Melina León)
The Siamese Bond (Paula Hernández)
Los lobos (Samuel Kishi)