EXCLUSIVE: Gang Dong-won, Han Hyo-joo and Jung Woo-sung confirmed to star in sci-fi actioner.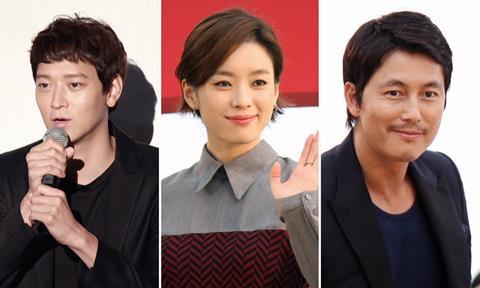 Hit Korean director Kim Jee-woon - who has been a regular at top festivals like Venice and Cannes with titles such as The Age Of Shadows and The Good, The Bad, The Weird - has locked a top flight cast and is set to start production next month on sci-fi action thriller In-Rang (tentative title).
Based on the Jin-Roh: The Wolf Brigade franchise's original written by animation master Mamoru Oshii (Ghost In The Shell), Kim's live action Korean version will star Gang Dong-won (Master), Han Hyo-joo (Cold Eyes) and Jung Woo-sung (Asura: The City Of Madness).
Taking place in the near future where North and South Korea have announced they will reunify after a preparation period of seven years, an anti-reunification terrorist sect, a special police forces unit set up to counter them, and a powerful government security bureau that's against unification all clash and collide in an apocalyptic scenario.
Lewis Pictures, which recently produced Bong Joon Ho's Okja, is producing the film. Union Investment Partners is backing it.
Gang is set to play an elite forces police officer tasked with brutal responsibilities, who is thrown into conflict after witnessing the death of a girl who was a member of the anti-reunification sect. Han plays the girl's older sister who makes his character waver even further. Jung, who previously worked with Kim on The Good, The Bad The Weird, will play a legendary elite forces officer who also trained Gang's character.
In addition, the film will feature Gim Mu-yeol (Warriors Of The Dawn), Han Ye-ri (Haemoo), Hu Joon-ho (The Merciless) and Min-ho from the K-pop group Shinee.
Set to start shooting in August, the film is aiming for release in summer 2018.