Lionsgate's Sicario is the week's highest new entry with $2.5m (£1.6m) as Legend becomes StudioCanal's second biggest release ever with $25.7m (£16.75m).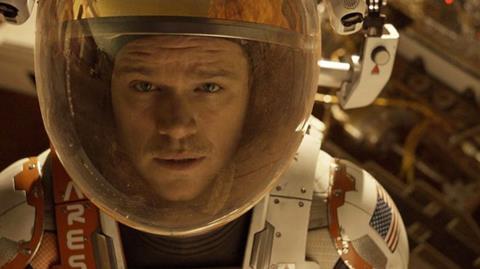 FOX
Falling just 19% (excluding previews), The Martian remained docked at the top of the UK box office for the second straight week.
Fox's sci-fi adaptation enjoyed a strong $5.9m (£3.84m) second weekend for $20.3m (£13.2m), already making it director Ridley Scott's fifth biggest UK release with Robin Hood's $23.6m (£15.4m) shortly to be overtaken.
In comparison to recent notable sci-fi outings, The Martian is tracking ahead of Interstellar ($18.7m/£12.2m at same stage) but has fallen behind Gravity, which stood at $22.5m (£14.67m).
The Martian is unlikely to record a hat-trick at the top of the UK chart given the preview-boosted opening of Hotel Transylvania 2 and the seven-day Suffragette opening this coming weekend. However, it is well placed to hit £20m and potentially beyond.
Also for Fox, Maze Runner: The Scorch Trials is up to $12.9m (£8.38m) following a $492,000 (£320,656) fifth weekend, and will likely end up with a similar tally to The Maze Runner's $13.6m (£8.89m).
LIONSGATE
The week's highest new entry came in the form of Sicario as it landed second.
Lionsgate's crime drama scored an excellent $2.5m (£1.6m) UK debut from its 434 sites, including $337,000 (£219,737) in previews.
That marks director Denis Villeneuve's best-ever opening ahead of Prisoners' $2.1m (£1.37m) from 400 sites, and that film's $11.2m (£7.3m) result will now be Sicario's target.
SONY
The Walk stumbled a touch with an uninspiring UK debut of $1.2m (£800,000) from its 481 sites through Sony.
That opening includes $427,000 (£278,000) from its IMAX and PLF previews since Oct 2, and overall it marks one of the lowest ever UK debuts for director Robert Zemeckis, behind Contact's $1.4m (£932,114) from 282 sites.
STUDIOCANAL
Legend is now StudioCanal's second biggest release of all time at the UK box office.
The well-received Krays biopic added $1.1m (£708,937) for $25.7m (£16.75m) after five weeks in play, taking it past The Imitation Game's $25.2m (£16.4m).
It also means that it's now the eighth biggest 18-rated film and looks well set to become the seventh biggest, currently The Silence of the Lambs' $26.3m (£17.12m) result.
Also for StudioCanal, Macbeth fell around 30% (excluding previews) as it posted a second weekend of $711,000 (£463,068) for $2.8m (£1.84m) to date, a somewhat disappointing result so far given the marketing push for the film.
WARNER BROS
The Intern dropped a respectable 25% (excluding previews) on its way to a $777,000 (£506,000) second weekend.
Warner Bros' dramedy is now up to $2.8m (£1.82m) and will likely end its run as director Nancy Meyers' lowest grossing UK outing, currently The Parent Trap's $7.7m (£5m).
UNIVERSAL
Now in its fourth weekend, Universal's Everest is on the cusp of £10m after trekking to an extra $764,000 (£497,869) for $15m (£9.77m) to date.
Also for Universal, Minions and The Visit have amassed $71.4m (£46.5m) and $4.6m (£3m), respectively.
ENTERTAINMENT
Regression started its UK run with an underwhelming $329,000 (£214,489) from its 270 sites through Entertainment.
DISNEY
Rising 2% in its 12th weekend, Disney's Inside Out added a further $284,000 (£185,000) for an excellent $59m (£38.4m) to date.
EONE
In its third weekend, eOne's Miss You Already took $89,000 (£57,644) for $2.1m (£1.36m) to date.
CURZON ARTIFICIAL EYE
Released in seven sites through Curzon Artificial Eye, Red Army recorded a UK bow of $9,800 (£6,388), including previews.
UPCOMING RELEASES
This week sees saturation releases for Fox's Suffragette (opens today, Oct 12), Universal's Crimson Peak, Warner Bros' Pan and Sony's Hotel Transylvania 2.
StudioCanal's The Program receives a wide release, while Picturehouse Entertainment's The Lobster, Dogwoof's Censored Voices and Metrodome's Howl are among the films receiving a limited release.