Stephen Chow's comedy moved ahead of Monster Hunt to become the country's top-grossing film, while Kung Fu Panda 3 targets all-time animation record.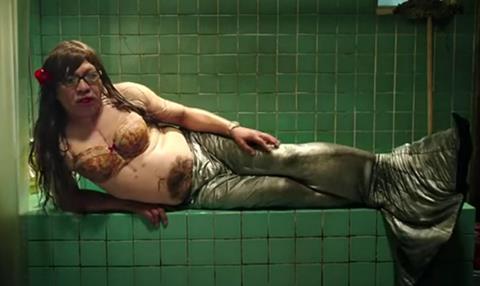 Festive films continued to run the show post-Chinese New Year holidays, as The Mermaid crossed $400m to become China's all-time box office champion.
Hong Kong hit-maker Stephen Chow's The Mermaid was unstoppable: on Friday, it beat both Monster Hunt and Furious 7 to become China's highest grossing film ever when it clocked up $378.82m after only 12 days.
After setting numerous records in its first week of release, the fantasy film with an environmental message remained the undisputed box office champion in the week of Feb 15-21. Its second week pulled in $139.47m, bringing its grand total to $415.30m after 14 days.
Despite being largely overshadowed by The Mermaid, both The Monkey King 2 and From Vegas To Macau III have also become massive hits by any standard.
Buoyed by positive reviews, The Monkey King 2 overtook From Vegas To Macau III and climbed to second place from third in its second week. The CG-heavy fantasy film grossed $39.96m for $156.61m after 14 days.
From Vegas To Macau III dropped one place to third with $32.45m for $152.36m after 14 days. The third instalment of the gambling comedy franchise has now surpassed its second instalment, which was a big hit last Chinese New Year.
Crouching Tiger, Hidden Dragon: Sword Of Destiny debuted in fourth place and took $20.82m from its three-day opening weekend, but with subsequent drops over Saturday and Sunday. The sequel, which was released 15 years after the original film, reunites actress Michelle Yeoh and action choreographer Yuen Woo Ping who takes over the director's chair from Ang Lee, while Donnie Yen replaces Chow Yun Fat as the male lead.
Japanese animation Boruto: Naruto The Movie opened in sixth place with $9.33m from its first four days. Another animation, Thomas & Friends: Sodor's Legend Of The Lost Treasure, opened in ninth place with $1.37m from its first two days.
Kung Fu Panda 3 dropped to fifth with $13.76m for $140.74m after 24 days. With its run being extended, it may be able to beat local animation Monkey King: Hero Is Back to be China's top-grossing animation ever.
Two local love dramas ranked back-to-back in seventh and eighth after eight days: Mr. High Heels took $8.07m for $12.90m, while Run For Love took $1.58m for $7.08m.
Rounding out the weekly chart was local animation Boonie Bears III, which grossed $0.65m for $43.41m after 37 days.
The top three local films will continue to stay high up on the chart probably until Ip Man 3 opens on Mar 4. Both Japanese animation Saint Seiya: Legend Of Sanctuary and Nicolas Cage-starrer Left Behind open on Feb 26.