Meanwhile, Wonder Woman surges to $483.2m globally.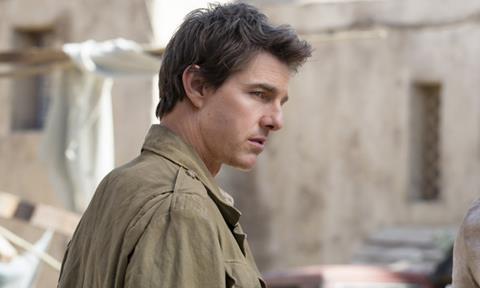 Universal Pictures International's The Mummy, from director Alex Kurtzman and starring Tom Cruise and Sofia Boutella, stands at $181.5m after debuting in 65 territories last week day-and-date with North America.
Universal's first instalment of its 'Dark Universe' series of monster movie revivals stands at $222m worldwide as it heads into five additional territories this week, including France.
Following The Mummy, Universal will release several more monster movies including The Invisible Man, Frankenstein and Dracula.
Universal's latest animation Despicable Me 3 will debut in five territories, including Australia and the Philippines this week.
The third instalment of the successful franchise is directed by Kyle Balda and Pierre Coffin and features the voice talents of Steve Carell, Kristen Wiig, and Jenny Slate.
F. Gary Gray's action tentpole The Fate Of The Furious has reached $1.007bn internationally. Get Out from director Jordan Peele stands at $75.2m and has no new openings.
Warner Bros Pictures International and DC's tentpole Wonder Woman has amassed $255.4m internationally and stands at $483.2m worldwide.
The film directed by Patty Jenkins and starring Gal Gadot, Chris Pine, David Thewlis and Robin Wright opens in Germany this week.
Guy Ritchie's King Arthur: Legend Of The Sword has reached $97.4m and will debut in Japan this week.
Everything, Everything stands at $3.6m and will debut in Russia and Brazil this week, while heist comedy Going In Style has reached $37.2m with no new openings.
Walt Disney Studios Motion Pictures International's Pirates Of The Caribbean: Dead Men Tell No Tales has amassed $479m internationally. There are no new openings.
Marvel Studios' Guardians Of The Galaxy Vol. 2 has reached $468.2m and has opened everywhere.
Beauty And The Beast stands at $746.5m internationally and has completely opened.
Disney and Pixar's Cars 3 will debut in Mexico, Poland, Russia and smaller territories this week.
Brian Fee directs the animation that features the voices of Owen Wilson, Cristela Alonzo and Chris Cooper.
Paramount Pictures International's Baywatch stars Dwayne Johnson and Zac Efron and stands at $50.8m internationally. The action comedy debuts in Brazil, Mexico and Spain this week.
Fox International's Alien: Covenant from director Ridley Scott stands at $110m at the international box office. The film starring Michael Fassbender, Katherine Waterston, and Billy Crudup debuts in China this week.
DreamWorks Animations' Captain Underpants: The First Epic, directed by David Soren and voiced by Kevin Hart, Thomas Middleditch and Ed Helmsstands, stands at $3m internationally.
Roger Michell's period drama My Cousin Rachel, starring Rachel Weisz, stands at $1.7m. Meanwhile, family film Diary Of A Wimpy Kid: The Long Haul has reached $8.6m.
Action comedy Snatched has grossed $11.1m, while Logan stands at $388m. Gifted starring Chris Evans debuts in the UK this week.