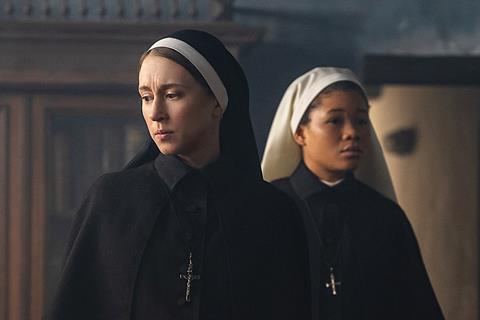 Worldwide box office September 15-17, 2023
| | | | | | | |
| --- | --- | --- | --- | --- | --- | --- |
| Rank | Film (distributor) | 3-day (world) | Cume (world) | 3-day (int'l) | Cume (int'l) | Territories |
| 1. | The Nun II (Warner Bros) | $44.8m | $158.8m | $30.1m | $102.3m | 73 |
| 2. | A Haunting In Venice (Disney/Fox) | $37.2m | $37.2m | $22.7m | $22.7m | 52 |
| 3. | Jawan (Yash Raj) | $17.7m | $101.3m | $15.2m | $89.1m | 79 |
| 4. | The Equalizer 3 (Sony) | $15.5m | $132.4m | $8.3m | $58.7m | 55 |
| 5. | Oppenheimer (Universal) | $12.9m | $912.7m | $10.8m | $594.1m | 84 |
| 6. | Expend4bles (Millennium Media) | $10.9m | $10.9m | $10.9m | $10.9m | 1 |
| 7. | Dust To Dust (HGSE) | $10.7m | $43.6m | $10.7m | $43.6m | 1 |
| 8. | Barbie (Warner Bros) | $7.4m | $1.42bn | $3.4m | $790.6m | 74 |
| 9. | My Big Fat Greek Wedding 3 (Universal) | $6.3m | $23.9m | $1.6m | $5.3m | 25 |
| 10. | Gran Turismo: Based On A True Story (Sony) | $5.9m | $102.9m | $3.5m | $63.5m | 64 |
Credit: Comscore. All figures are estimates
'The Nun II' crosses $160m worldwide
UPDATE: Warner Bros/New Line horror The Nun II ruled global box office for the second weekend in a row with a confirmed $30.8m haul from 14,544 screens in 72 markets, dropping 49% from the opening session to reach $161.1m. It also appears to have held on to top spot in North America although by Sunday it was neck-and-neck with A Haunting in Venice. The studios will confirm their numbers on Monday.
The Nun II stands at $104.8m internationally and is tracking ahead of every other film in Warner Bros' The Conjuring universe in like-for-like markets based on current exchange rates, except the 2018 original. The Nun remains the highest-grossing film in The Conjuring universe on $366m, powered by particularly strong performances in South America.
The Nun II opened top of the charts in France on $3.2m from 468 screens, behind The Nun's unadjusted $4.5m debut in 2018 and roughly on par with Annabelle and Scream VI and ahead of Annabelle: Creation by 10%, Annabelle Comes Home by 47%, and Evil Dead Rise by 145%.
Mexico is the lead market after adding $4.1m for $15.1m after two weekends and is more than half-way towards the original's $22.2m final tally.
France is next and en route to the original's $10.8m gross, followed by Indonesia on $2.3m for $7.6m (The Nun finished on $13.8m), Brazil on $1.8m for $7.2m (the original earned $20.5m by the end of its run), and the UK on $1.4m for $4.9m after a modest 35% drop. The Nun finished on $14.7m in the UK. All numbers are unadjusted for inflation.
Taissa Farmiga and Bonnie Aarons star in the 1950s France-set tale as Sister Irene again encounters the demonic nun Valak. The Nun II opens in Germany and Austria this week, followed by South Korea on September 27, and Japan on October 13.
For the record Barbie, the highest-grossing 2023 release, stands at $791.8m internationally and $1.418bn worldwide. The UK has generated $121.9m. Blue Beetle's global haul has reached $120.4m.
'A Haunting In Venice' delivers modest $37.2m global launch
UPDATE: Kenneth Branagh's A Haunting In Venice for 20th Century Studios opened via Disney on a confirmed $38m, an unremarkable result that was roughly where Branagh's Death On The Nile landed in like-for-like markets back in early 2022 when the pandemic still loomed large in the rearview mirror.
Earning $23.7m from 51 markets, the latest Hercule Poirot murder mystery opened at number one in the UK on $2.7m, Italy on $2.2m, and Spain on $1.1m. It arrived in China outside the top five on $2.4m, France on $1.7m in second place, and South Korea on $1m.
This compares to Nile's opening numbers of $2.6m in the UK, $2.1m in Italy, Spain on $942,963, China on $5.8m, France on $2.1m, and South Korea on $1.2m. All numbers are unadjusted.
A Haunting In Venice boasts a typically starry ensemble led by Branagh and including Oscar-winner Michelle Yeoh, Jamie Dornan, and Tiny Fey. Disney executives said 36% of the opening weekend box office came from premium screens – 27% Premium Large Format, and 9% Imax.
'Expend4bles' leads the way in China
Expend4bles, Millennium Films' latest action-packed entry in the Expendables franchise, opened top in China on an estimated $10.9m through JL Vision and sub-distributed via Alibaba.
Prior China opening weekends in the 13-year-old series could not be ascertained at time of writing, although Expendables 3 finished in China on an unadjusted $72.9m after opening in 2014.
The latest exploits by the mercenaries reunites Sylvester Stallone, Jason Statham, Dolph Lundgren, and Randy Couture for the first time in nine years alongside Iko Uwais, Tony Jaa, Megan Fox, and Curtis '50 Cent' Jackson. Expend4bles opens in North America this week via Lionsgate.
Wish Pictures' thriller Dust To Dust directed by Jonathan Li placed second over the weekend in China on $10.6m for a $44.2m tally after two weekends, according to Artisan Gateway. The film premiered at Shanghai International Film festival in June.
In third place was Universal's Oppenheimer on $4.3m for an excellent $54.3m running total. Dirty Monkey's summer smash No More Bets added $4m to rank fourth and stands at $527.1m. Rounding out the top five was Wishart Media's new release Tainted Love on $3.2m. Ma Yingxin directed the psychological drama about a woman who sets out to find the truth after she is cheated in a romance scam.
'Oppenheimer' crosses $900 worldwide
UPDATE: Christopher Nolan's Oppenheimer crossed $900m worldwide to underscore an extraordinary run for a three-hour film based on sombre subject matter without a superhero mask or cape in sight.
Nolan's tentpole and heavy Oscar season contender featuring an ensemble led by Cillian Murphy grossed a confirmed $12.6m over the weekend to reach $912.6m. It stands at $593.9m internationally, with China delivering $4.2m to rank number three after a 51% drop in the third weekend resulting in a $53.6m running total, which is slightly at odds with the number provided by Artisan Gateway.
This means Oppenheimer has overtaken the $910.8m final gross set by Bohemian Rhapsody in 2018 to rank as the highest-grossing biopic of all time.
The lead territories are the UK on $72.9m after nine weekends, then China, followed by Germany on $47.9m after nine, France on $41.6m after nine, Italy on $26.7m following $1.4m after a 50% drop in the fourth weekend, Australia on $26.3m after nine, and South Korea on $24.9m after five sessions.
The tentpole's record-breaking exploits at the box office helped push Universal's combined releases in 2023 past $4bn at the global box office, making the studio the second to accomplish the feat this year and only the third to do so since 2019.
'Jawan', 'Gran Turismo: Based On A True Story' join $100m club
Yash Raj's vigilante thriller Jawan starring Shah Rukh Khan grossed $17.7m to reach $101.3m in its second session after last weekend's record $64.1m global debut by a Hindi-language film.
Atlee, aka Arun Kumar, directed for Red Chillies Entertainment and Yash Raj handled sales and distributes in the UK and North America.
Speaking of the latter, Jawan stayed in the North American top 10 over the weekend, adding $2.5m for $12.2m.
Columbia Pictures' Gran Turismo: Based on a True Story added $3.5m from 63 markets to reach $102.9m. The action drama opened in Japan on $1.2m from 837 screens and roars into Italy and South Korea this week.