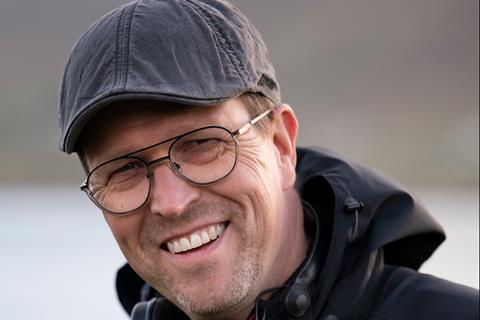 The Playmaker Munich is to handle international sales for Finnish director Klaus Härö's World War II drama Never Alone (Ei Koskaan Yksin), which won Screen's Best Pitch Award when it was pitched at Tallinn's Baltic Event co-production market in 2011.
Since then, Härö has been busy with other projects such as the 2015 Golden Globe nominated and Oscar-shortlisted The Fencer and his first foray into English-language films with the drama My Sailor, My Love.
He has now turned his attention back to Never Alone, which is set in 1942 when Finland was allied with Nazi Germany at war against the Soviet Union.
The €4m production by Helsinki-based MRP Matila Röhr Productions is being co-produced with Sweden's HOBAB, Estonia's Taska Film, Germany's Penned Pictures and Austria's Samsara Filmproduktion.
Financial backing has come from broadcasters MTV3/C More, Estonian Television, and Sweden's SVT as well as the Finnish Film Foundation, Estonian Film Foundation, Film Estonia, the Swedish Film Institute and Nordisk Film & TV Fond.
Nordisk Film will be handling theatrical distribution for Never Alone in the Nordic territories with Apollo overseeing the release in the three Baltic states.
The film's script centres on the true story of the attempts by Abraham Stiller, a prominent member of the Jewish community in Finland, to stop the Finnish State Police handing over foreign Jewish refugees to the Gestapo to be deported to the death camps.
Producer Ilkka Matila of MRP Matila Röhr Productions, who originally pitched the film at Tallinn in 2011, points out that this chapter of Finnish history had not been given the cinematic treatment before "because it was too painful a story for the state of Finland and the whole community to speak about publicly."
It will be Matila's second collaboration with Härö after working on another "untold story" in 2005 film Mother Of Mine, about 70,000 children evacuated from Finland to neutral Sweden during the Second World War
Härö and Jimmy Karlsson based their screenplay on Rony Smolar's 2003 biography of Abraham Stiller, Setä Stiller - Valpon ja Gestapon välissä.
Karlsson has served as a script consultant on several of Härö's previous films such as Letters To Father Jakob, The Fencer and Life After Death, and was also co-author with Kirsi Vikman of Mother of Mine and My Sailor, My Love which premiered at Toronto's Contemporary World Cinema section in September.
Principal photography is scheduled to begin at locations in Finland and Estonia from next April.
English-language option for 'You Can Dance'
Meanwhile, last year's Screen Best Pitch Award winner You Can Dance could become Swedish director Katarina Launing's first feature film to be made in the English language.
Speaking to Screen during last week's Baltic Event, producer Peter Krupenin of Stockholm-based production company HOBAB said that he attended this year's edition of London's Production Finance Market in October where the idea of shooting the film in English had met with "a very good response." He is now actively following up with the industry contacts he met there.
Krupenin added that Launing is currently reworking part of the screenplay to expand the role of the rebellious teenager Molly who leaves home to move in with her grandfather Gunnar and promptly turns his life upside down.
The heart-warming romantic comedy about acceptance centres on the 75-year-old beginning to have feelings for Sixten, another man in the dance activity group of his nursing home, after having lived his whole life in a lie.
Estonian premiere for 2015 Best Pitch winner
Ilmar Raag's family fantasy adventure Erik Stoneheart, the winner of the Screen International Best Pitch Award in 2015, celebrated its Estonian premiere in this year's Tallinn's Just Film children's and youth competition. The film previously had its world premiere at Poznan's Ale Kino! - International Young Audience Film Festival at the beginning of October.
The Estonian-Luxembourg-Finnish-Lithuanian-Latvian-Ukrainian co-production will open in Luxembourg's Kinepolis and Cinextdoor cinemas this Wednesday (Nov 30) and be released by HeaFilm in Estonian cinemas on 9 December.
The film's market premiere by sales agent Pink Parrot Media is scheduled for Berlin's European Film Market next February.