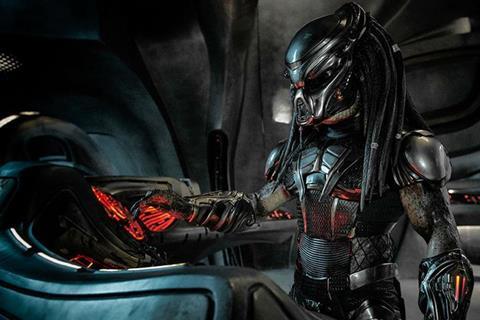 Fresh from its world premiere at TIFF, The Predator launches day-and-date with North America in approximately 70 territories this weekend via Fox International and looks ready to scrap it out for the box office crown.
If Shane Black's horror reboot is to overhaul last weekend's champion The Nun, however, it will need to deliver in the key markets of the UK, Germany, Australia, Brazil, Russia, South Korea, and Spain.
The Predator also ventures into Indonesia and Malaysia, India, Thailand, Taiwan, and Hong Kong, and Sweden and Holland, among others. Fox's YA release The Darkest Minds has reached $27.7m.
Warner Bros Pictures International executives report that The Nun has crossed $100m and stands at $109.1m heading into its second session. The horror tentpole should hold well enough to push the running total toward, if not past, the $150m mark.
Crazy Rich Asians stands at $31.2m and heads into the UK this weekend. The Meg stands at $359.5m, and Teen Titans Go! on $17.1m debuts in Australia.
Walt Disney Studios Motion Pictures International brass report that Incredibles 2 has reached $574m, while Ant-Man And The Wasp stands at $398.4m, and Christopher Robin on $52.2m enters Australia and Japan this weekend.
Mamma Mia! Here We Go Again has amassed $259.5m through Universal Pictures International. Spike Lee's BlacKkKlansman has reached $23.6m and debuts in Poland. Jurassic World: Fallen Kingdom stands at $886.5m, and The First Purge $66.2m.
Rowan Atkinson returns in his most iconic role in the spy spoof Johnny English Strikes Again, which arrives in Mexico, Colombia, Venezuela, and Malaysia ahead of the North American launch on October 26. When Johnny English Reborn launched in late 2011 it went on to gross $151.8m and debuted in the aforementioned markets on $928,000 (adjusted for inflation to $1m), $248,000 ($277,000), $247,000 ($276,000), and $1.9m ($2.1m).
This summer's US documentary box office smash Won't You Be My Neighbor? arrives in Australia, and Paolo Sorrentino's three-hour version of Loro debuts in Italy, where the film has already opened as a two-parter. Todos Lo Saben opens in Spain.
Mission: Impossible – Fallout has generated $525.9m through Paramount Pictures International.
Hotel Transylvania 3: Summer Vacation has grossed $334.6m through Sony Pictures Releasing International, The Equalizer 2 $74.1m with a debut in Italy this weekend, (Italy) Alpha $30.4m.
The thriller Searching enters Australia and France and stands at $20.3m.