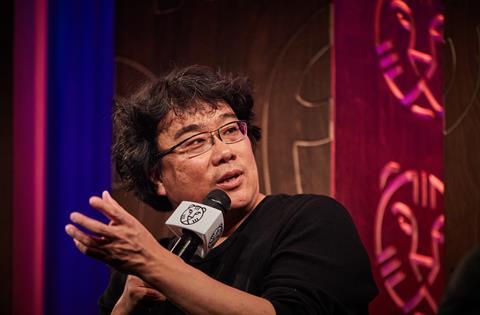 South Korean director Bong Joon Ho took some time out from the Oscar race – in which his film Parasite is nominated in six categories including best picture and director – to attend the International Film Festival Rotterdam (IFFR) for the world premiere of the black and white version of his Palme d'Or-winning film.
"The great masters like Kurosawa Akira, Jean Renoir, John Ford, Alfred Hitchcock, if we see their filmography, they have some period of black and white, and also colour films," said Bong of why he had decided to make a black-and-white version of Parasite. "They have both two different kinds of periods."
"But our generation, we had no chance to make black and white. But thanks to digital technology, with a very small budget we can make black and white versions of this. When I, and people in my generation, hope our films become classics, too - when we think of classics, they're all in black and white. So, I sort of had this vain idea that maybe if I also turn my films into black and white they could become classics," he said.
"Actually, if I wanted it to become classic or a masterpiece, I should probably work harder on the script, but instead, I'm turning things into black and white and it's just a sort of my dream and fantasy that I can be included in the classics like that," he added.
Bong was talking at a masterclass held before the festival gala screening of Parasite.
He explained he had grown up watching a black and white television set at home. It became his " cinematheque" because "my mother would not let me go to the cinema, saying there are a lot of germs there because all year long there's no sunlight coming in."
Bong suggested the viewer can better focus on the actors in black and white, as well as the textures.
At the Q&A session that followed the screening Bong elaborated a little on this notion. "Cinema is about sound and images but smells aren't as easy to convey. Whenever we had a scene with smells in it, I talked about it with the actors - how when people watch the film, it will be through watching the actors who smell the smells and the actors who are embarrassed by their smells that the audiences will get it.
"I think with the black and white version, you focus more on the actors' performances, so maybe that's why the smells seem more intense it in."
Referring to a humorous scene where North Korean TV anchors are mimicked in Parasite, Bong talked a little about North-South Korean relations.
"Koreans have a lot of complex feelings towards North Korea," he explained. "We live right up against them, and especially Japanese will often ask us if we aren't afraid that war might start. It could be scary, but we don't really care about it because if war did actually happen there's not much you can do anyway. So it's just 'Oh, they've launched missiles again.' It's hard to explain. We worry but you also become inured."
Asked who would be the very first person he would thank "when – not if" Parasite wins the best picture Oscar, he laughed and said, "Best picture goes to 1917."