Luxembourg, the second feature by The Tribe director Myroslav Slaboshpytskiy, is set to become the first ever co-production between Ukraine and Norway.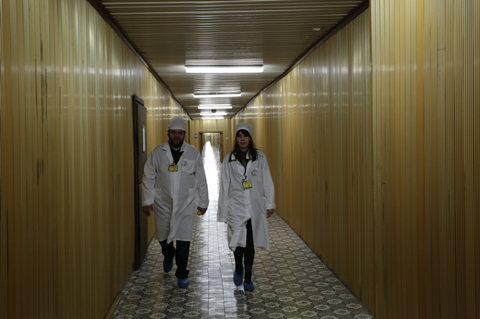 The co-production between Ukraine's Studio Garmata Film, France's Alpha Violet, Norway's DUOFilm and Germany's Tandem Production also marks the first time that a project from Ukraine has benefited from the new HBF+Europe minority co-production fund.
Speaking to ScreenDaily from Kyiv, Tandem Productions' Anna Katchko explained that the HBF+Europe support was awarded to her Berlin-based company and will be spent partly in Germany and partly in Ukraine.
She added that Slaboshpytskiy's second feature has received support from the Ukrainian State Film Agency, France's CNC 'Aide aux Cinémas du Monde', development backing from the Hubert Bals Fund as well as $64,000 (NOK 500,000) from Norway's Sorfond.
"It is very important for a Ukrainian project to build up a co-production with European countries, we are very pleased to have such support," said Katchko who will produce Luxembourg with Valentyn Vasyanovich of Studio Garmata Film
During its development stage, Luxembourg was awarded the ARTE International Prize and Sundance Global Filmmaking Award for best script.
The project was presented at this year's CineMart 2015 and subsequently at the Berlinale Co-Production Market as part of the Rotterdam - Berlinale Express, as well as the 2015 editions of the Sundance Lab and the Odessa Industry Office where it was introduced locally for the first time in an 'out of competition' slot at the pitching forum in July.
Katchko revealed that the neo-noir style film will be shot on location in the Chernobyl exclusion zone from Dec 2015 to Jan 2016.
The story centres on a policeman who confronts the system, his job and the women in his life in a city overshadowed by the effects of a nuclear disaster.
¨The leading roles will be covered by professional Ukrainian actors, but all the second roles will be performed by the non-professional actors - the local people living and working in the Chernobyl exclusion zone: policemen, technicians, cleaners, construction workers,¨ Katchko said, pointing out that a special casting is currently underway in Chernobyl.
Local Ukrainian distribution for the film is ¨under negotiation¨ at the moment, and post-production will be done in Germany and France.
Slaboshpytskiy was joined today in Kyiv by producers Katchko and Vasyanovich, Philipp Illienko, head of the Ukrainian State Film Agency, Norwegian Ambassador Elvedal Fredriksen, and Matthieu Arden, Director of the French Institute in Ukraine, to announce the start of shooting on this new feature.
International sales on Luxembourg will also be handled by Alpha Violet who sold The Tribe to over 40 countries worldwide.
European Film Award winner The Tribe - which has picked up over 40 awards at festivals around the globe since its premiere in Cannes last year - is currently on release in the US through Drafthouse Films.