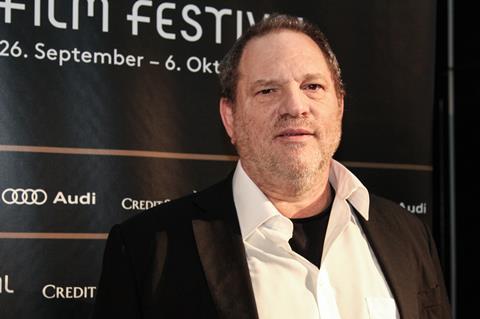 The Weinstein Company (TWC) board said on Tuesday afternoon (May 1) that Lantern Capital has won the bid to acquire its assets.
In March when TWC filed for bankruptcy it entered into a "stalking horse" agreement to sell its assets to Dallas-based private equity firm Lantern Capital Partners.
Also this week: Ashley Judd sues Harvey Weinstein, alleges he sabotaged her career
The agreement with Lantern called for TWC to file for bankruptcy and came several weeks after the proposed $500m sale to a consortium led by billionaire Ron Burkle and former Obama administration official Maria Contreras-Sweet fell through.
The TWC board issued the following statement:
The Weinstein Company is pleased to announce that Lantern Capital is the winning bidder in the sale for substantially all of the assets of the Company.
No other bid offered as much value to the estate as the Lantern bid, which was also the Debtors' stalking horse bid and was negotiated with input from the Office of the New York Attorney General.
"Lantern's bid clearly achieves the highest and best value for the estate and its creditors," said Ms. Ivona Smith, a member of The Weinstein Company Board of Representatives. "We look forward to working with Lantern to close the transaction and consummate the going concern sale."
Earlier today, news outlets reported that the Company received a letter of interest from Inclusion Media, a potential bidder backed by Howard Kagan. That letter, submitted after the bid deadline, was a conditional indication of interest that contemplated substantially less value to the estate, and did not include a purchase agreement, a financing commitment, a deposit, or a number of other requirements for a qualified bid.
While the Inclusion letter did claim to offer certain attractive aspects for victims, the Debtors concluded after discussions with Mr. Kagan that the Inclusion letter was not a bona fide offer. Thus, in furtherance of its fiduciary duty, the Board selected the bid that offered, with certainty, the most overall value to the estate.