Universal's biopic posts chart-topping $5.7m (£3.74m) bow, including previews; Warner Bros' climactic Hobbit outing leads Fri-Sun chart; StudioCanal's Paddington crosses £30m.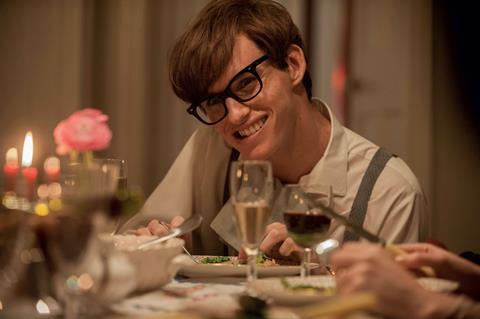 It's a Happy New Year for Working Title as The Theory of Everything has debuted top of the UK box office.
Universal's release of the Stephen Hawking biopic scored a terrific $5.7m (£3.74m) UK bow from its 532 sites. The opening includes $1.2m (£802,000) in previews and it's worth noting that based solely on Fri-Sun figures, the film would have charted second.
Either way, it still marks an auspicious opening for one of this year's awards contenders, given that it means it is already director James Marsh's best-ever UK performer and that it opened ahead of fellow British biopic The Imitation Game, which landed in November with $4.2m (£2.7m) from 459 sites.
As of Jan 4, The Imitation Game stands at $22m (£14.4m) and The Theory of Everything is in a strong position to overhaul that in the coming weeks.
Also for Universal, Dumb and Dumber To fell a slim 27% on its way to $1.1m (£751,000) third weekend for $8.5m (£5.5m) to date as it attempts to surpass Dumb and Dumber's $14.7m (£9.6m) UK result.
Unbroken added $696,000 (£455,000) after a 31% drop in its second weekend and has now grossed $2.9m (£1.9m).
WARNER BROS
It may have officially been prevented from a fourth straight week as the UK's number one but based solely on Fri-Sun figures, The Hobbit: The Battle of the Five Armies led the way with $4.95m (£3.24m).
Warner Bros' climactic Hobbit outing has now fought its way to $56.1m (£36.7m) as it attempts to avoid becoming the lowest grossing Hobbit film, currently The Desolation of Smaug's $65.6m (£42.9m).
At the same stage in its run, The Desolation of Smaug was narrowly ahead of The Battle of the Five Armies with $56.9m (£37.2m), after posting an almost identical fourth weekend of $4.89m (£3.20m).
STUDIOCANAL
Having hit £20m on Dec 23, Paddington has enjoyed a tremendous festive period in the UK to sail past £30m.
StudioCanal's big screen outing for the marmalade-loving bear boosted 11% on its way to a $4.3m (£2.8m) sixth weekend for a mighty $47m (£30.8m) haul to date. With schools back, Paddington will likely start to slow down but it will likely end up as the second highest grossing 2014 release, behind The Hobbit.
Given how it's done to date, you wouldn't yet rule out £40m for Paddington either.
Also for StudioCanal, The Imitation Game added $347,000 (£227,101) for $22m (£14.4m) after eight weeks in play. The Alan Turing biopic is now the distributor's second highest grossing film of all time, having overtaken Tinker Tailor Soldier Spy's $21.7m (£14.2m).
EONE
The third British film in the top five, eOne's The Woman in Black: Angel of Death scared up an impressive $3.7m (£2.4m) from its 445 sites, including around $840,000 (£550,000) in previews.
Given both the higher certificate and lack of Daniel Radcliffe, the debut is unsurprisingly down on The Woman in Black's $4.8m (£3.2m) and the sequel is also unlikely to match that film's tally of $32.5m (£21.3m). However, with a lack of horror competition, Angel of Death could be haunting the chart for some weeks to come.
Also for eOne, Nativity 3: Dude, Where's My Donkey?! has reached $11.4m (£7.5m) and, despite a decent run, will finish behind Nativity 2: Danger in the Manger!'s $14m (£9.2m).
FOX
Rounding off this week's top five after a 9% rise was Night at the Museum: Secret of the Tomb with a $2.6m (£1.7m) third weekend. Fox's threequel is now on the cusp of £10m and stands at $14.8m (£9.7m), yet will still likely struggle to match the £20m achieved by both previous outings.
Also for Fox, last week's highest new entry Exodus: Gods and Kings fell 39% on its way to $2.4m (£1.57m) for $9.7m (£6.4m) after ten days in play. In terms of Ridley Scott outings in the UK, it will shortly overtake Kingdom of Heaven's $11.9m (£7.8m) result.
Landing in 260 sites, Birdman flew to a healthy $2.3m (£1.5m) on its UK debut, including just over $534,000 (£350,000) in previews. That marked the third highest site average of the top 10 at $8,879 (£5,815) and director Alejandro González Iñárritu's best-ever UK bow.
Penguins of Madagascar stands at $10.9m (£7.1m) after a 26% boost saw it to a $960,000 (£628,828) fifth weekend.
SONY
Rising 19% (excluding previews) on last weekend, Annie sung to an additional $2.1m (£1.35m) for $8.3m (£5.4m) to date through Sony.
The musical is closing in on Friends With Benefits' $9.8m (£6.4m) result to become director Will Gluck's best-ever UK performer and also stands a chance of surpassing fellow musical remake Fame which hit the high note of $13.5m (£8.8m) back in 2009.
DISNEY
Sunday [Jan 4] saw Disney hold nationwide previews of Big Hero 6 at 380 sites which grossed $719,000 (£470,000) resulting in the day's second highest site average. The previews will be counted towards the animation's opening on Jan 30.
Also for Disney, Tinker Bell and the Legend of the NeverBeast boosted almost 50% week-on-week as it took $432,000 (£282,000) for $3.1m (£2m) to date.
LIONSGATE
Having crossed £30m before the weekend, Lionsgate's The Hunger Games: Mockingjay Part 1 shot to a further $632,000 (£413,068) to climb to $46.7m (£30.5m).
At the same stage in its run, Catching Fire stood at $50.2m (£32.8m) meaning that Mockingjay Part 1 is likely to finish behind Catching Fire's final $52.3m (£34.2m) result.
ENTERTAINMENT
In its second weekend, Big Eyes added $104,000 (£68,617) for $571,000 (£375,200) to date through Entertainment.
CURZON FILM WORLD
Available day-and-date on VoD, Curzon Film World's Enemy posted a $32,000 (£20,937) UK debut from its 13 sites, including just over $1,500 (£1,000) in previews.
UPCOMING RELEASES
This week sees saturation releases for Fox's Taken 3 (opens Jan 8) and Disney's Into the Woods.
eOne's Foxcatcher receives a wide release, while Soda Pictures' National Gallery is among the films receiving a limited release.