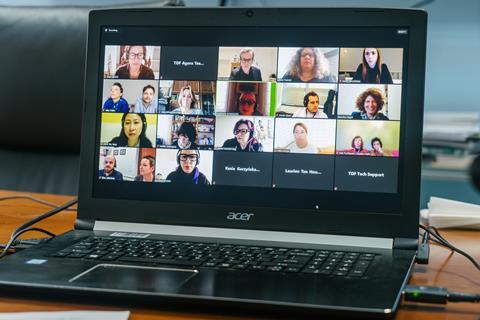 The Thessaloniki International Film Festival (November 5-15, TIFF) has teamed with the likes of Jerusalem, Sarajevo and Tallin Black Nights on common rules to be adopted for the online versions of festivals.
The full list of the 18 signatory events is below.
Titled a 'Plea for a festival pact to support and protect the audiovisual ecosystem in a digital environment', its two key recommendations are:
Festivals should agree to geoblock the online screenings of national and international premieres;
Loosen, as much as possible, rules on international premieres for films that have been recently premiered online
The suggestions on online festival etiquette will be discussed during a virtual panel as part of the Marche du Film today (Thursday June 25).
"For most of us, the digital shift was taken in an emergency, without any predefined course of action, depending on negotiations with rights holders and filmmakers," said Thessaloniki in a statement. "The abrupt transition to digital did not have time to be the subject of a global consultation between the key players of the audiovisual industry.
"We believe that if digital is here to stay, in whatever form and whatever the importance we attribute to it within our programming, we must, in consultation with the filmmakers, producers, sellers, distributors, national and international public institutions, agree on a few rules. We have to protect the ecosystem of the audiovisual industry by guaranteeing a healthy circulation and diversity of audiovisual programs and films, a fair remuneration of rights holders as well as a committed dialogue with the audience."
"We therefore call for concerted action between the festivals and the industry players likely to be impacted by this digital revolution of non-commercial screening (associations, national and European institutions, representatives of rights holders)."
Thessaloniki general director Elise Jalladeau and artistic director Orestis Andreadakis started contacting other European festivals in March about the guidelines and they hope to get more festivals to sign up for the rules.
Thessaloniki's documentary festival was originally to run in March but was forced to run its industry section and subsequently its main event online instead because of Covid-19.
Accompanying Jalladeau on today's panel, titled: "Covid-19 festival premieres: streaming and masking?" will be Unifrance director-general Daniela Elstner, with the European Commission's Maria-Silvia Gatta moderating.
Full list of signatory festivals
Amiens International Film festival
Cinemania Film Festival
Film Fest Gent
FIPADOC International Documentary Festival.
Gijon IFF
International Film Festival Mannheim Heidelberg
Istanbul Film Festival
Jerusalem Film Festival
Luxembourg City Film Festival
New Horizons IFF
Noordelijk Film Festival
Sarajevo Film Festival
Seville European Film Festival
Stockholm Int Film Festival
Tallinn Black Nights Film Festival
Thessaloniki Film Festival
Torino Film Festival
Trieste Film Festival - Alpe Adria Cinema