Cannes head will be live-narrating his archive film Lumière! at the festival.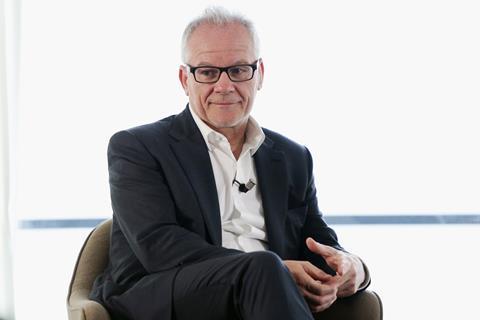 Cannes Film Festival chief Thierry Frémaux was a guest of the Toronto International Film Festival (TIFF) this weekend but his visit was not connected to his role as the head of the biggest and most glamorous festival in the world.
Double-hatted Frémaux was in town instead as managing director of France's Institut Lumière in Lyon, devoted to the work of cinema pioneers Auguste and Louis Lumière and film heritage in general, which he oversees when not preparing Cannes.
He flew into Toronto do a live narration of his film Lumière! pulling together some 100 short films shot by the Lumière brothers from 1895 to 1905, which are rarely shown on the big screen today.
He spearheaded the film, producing alongside compatriot director Bertrand Tavernier (who is president of the Institut Lumière), to mark the 120th anniversary of cinema in France in 2015.
"Louis Lumière and his operators shot nearly 1,500 films of 50 seconds. Apart from in the first five years, they've never been shown in theatres. The aim with Lumière! was to make one single film out of all the films, so that audiences could rediscover them."
Frémaux reveals his favourite Lumière film is their famous Workers Leaving the Lumière Factory, showing workers pouring out of the gates of their factory in Lyon, which is generally regarded as one of the first cinematographic works ever shot.
Fascinatingly, Lumière! reveals that the brothers shot three versions of the film over a course of several months in 1895.
"I like the fact that the first character in the history of cinema is the people," says Frémaux.
Aside Workers Leaving the Lumière Factory and other ground-breaking early works such as The Arrival Of A Train At La Ciotat Station, Lumière! also features an array of mesmerising images capturing cities such as London, Istanbul at the turn of the century as well as everyday life in the Lumières's home city of Lyon.
"The selection is a synthesis of all the subjects explored by the Lumières: towns and cities, children, workers, foreign lands. It also shows how the Lumières were already experimenting with travelling shots and close-ups, even early on," explains Frémaux.
"Another one of my favourites is a magnificent film shot in Vietnam in which a little girl runs in front of the camera. It's a marvellous film about childhood and the imagination of cinema."
In total, Lumière! feature 114 of the 1422 films shot by the Lumières and their crews between 1895 and 1905.
"They were all shot on 35mm and most of their negatives have been preserved. But they all need to be restored. It's a massive undertaking," says Frémaux.
In spite of the challenges, he remains optimistic about the future of the world's celluloid memories.
"I can see that all over the world there is a growing awareness of the necessity to looks after these images. The digital era, alongside television and DVDs, has also opened up new sources of revenue for heritage titles," says Frémaux.
"At Cannes Classics this year, we even saw countries like Pakistan and Slovenian coming onboard. Cinema is national heritage. And then the work of Martin Scorsese's World Cinema Foundation is also fundamental."
After TIFF, Frémaux heads back to Lyon and the Institut Lumière which is currently gearing up for the annual Lumière Festival, running Oct 8-18.
Highlights this year will include a tribute to Catherine Deneuve, who will receive the honorary Prix Lumière, which was awarded last year to Martin Scorsese.
International guests will include Chinese director Gong Li, American action picture maestro Walter Hill and Korean filmmaker Park Chan-Wook.
There will also be tributes to French director Marcel Carné, a key figure in the poetic realism movement, and pioneering director Dorothy Arzner, one of the few women to make it in Hollywood in the 1930s.
Quentin Tarantino, who was an honorary guest of the festival in 2013, has also selected 14 titles for a special sidebar devoted to films made in 1970.
His choices include Michelangelo Antonioni's Zabriskie Point, Jerzy Skolimowski's Deep End and Billy Wilder's The Private Life Of Sherlock Holmes.
"It's going to a huge feast," says Frémaux.