EXCLUSIVE: Japan-UK-Italy-Taiwan-Germany co-production of Yosuke Fujita's Fuku-chan Of FukuFuku Flats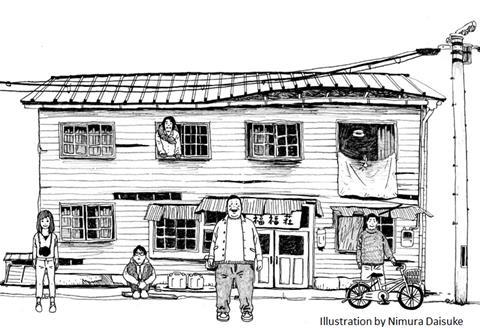 UK-based Third Window Films has announced an unprecedented Japan-UK-Italy-Taiwan-Germany co-production of Fine, Totally Fine director Yosuke Fujita's upcoming comedy, Fuku-chan Of FukuFuku Flats, with distribution deals in place.
Naoko Arai is credited as planner and producer, and the film is being produced by Keiko Fujimura of Japan's TV Man Union and Adam Torel of Third Window Films.
It has attached co-producers Sabrina Baracetti and Thomas Bertecche from Italy's Tucker Films (they are also known as the heads of the Udine Far East Film Festival), James Liu of Taiwan's Joint Entertainment and Stephan Holl of Germany's Rapid Eye Movies.
They are all making equity investments and taking their respective territory's rights.
The film stars popular Yoshimoto comedian Miyuki Oshima (GuGu The Cat, The Handsome Suit) as the main character Fuku-chan in what Torel describes as "a Tootsie-type of situation where a woman is playing a male character who has trauma from his youth and who tries to find girls from his youth."
Unique, independent comedy
Set to hold a press conference at the Tokyo International Film Festival/TIFFCOM tomorrow, the co-producers spoke exclusively to ScreenDaily ahead of time to explain why they chose to do this together.
"We've all been involved in promoting Asian cinema through festivals and distribution and know that it's not easy for an Asian film to get distribution overseas unless it's by someone like Takashi Miike or Kitano," said Third Window Films' Torel.
"A unique, independent comedy like this is very hard to distribute because there is nothing to base it upon – no numbers. You need to do more work to market it. But people like to laugh, and this is an interesting script.
"We are using a bigger network of international film festivals and distribution. We are five different companies all working closely together in unison."
Torel's Third Window Films has distributed features such as Himizu and Fine, Totally Fine and recently picked up Pluto, Behind The Camera and Bleak Night in Busan.
Pushing co-productions
Baracetti, whose Tucker Films previously distributed films such as Departures, Poetry and A Simple Life, said, "It's something we always wanted to do at Tucker Films.
"It's a distribution company that has worked with not just Asian films and we want to push co-productions between Asia and Europe. It's also something we've been working towards with the Ties That Bind workshop at Udine. So we're very excited to take on this new challenge.
"The co-producers all know each other and trust each other, and we know the director Yosuke Fujita. Udine showed his debut feature Fine, Totally Fine in 2007 and it won the Audience Award."
The film also picked up the Audience Award at the New York Asian Film Festival and won the Nippon Cinema Award Grand Prize at Nippon Connection festival in Germany. It played at Raindance, Taipei, Hong Kong and Fantasia, too.
"The Audience Award tells you that you've found something unique, that the audiences like to see, that sticks out and that they haven't seen before. So it really marks that director as something special," added Baracetti.
Shoot set to begin
The low-budget production starts shooting tomorrow (Oct 23) with completion set for January 2014.
Phantom Films is handling domestic distribution and coordinating production.
According to the producers, Fine, Totally Fine grossed $509,000 (¥50m) at the Japanese box office and sold 4,000 DVDs in the UK. It is currently available on VOD platforms such as MUBI.
"It was very well-received in England," added Torel. "We're thinking in the long term. We want to prove that something like this can work, and grow a larger audience for it."