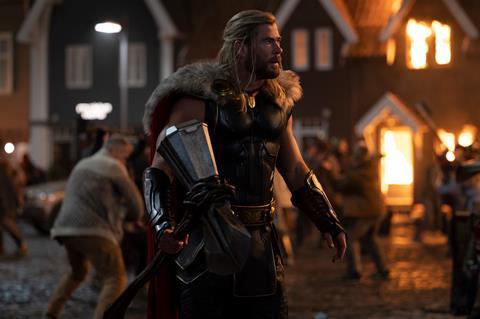 | | | | | |
| --- | --- | --- | --- | --- |
| Rank | Film (distributor) | Three-day gross (July 8 - 10) | Total gross to date | Week |
| 1. | Thor: Love And Thunder (Disney) | £9.1m | £12.3m | 1 |
| 2. | Minions: The Rise Of Gru (Universal) | £4.3m | £18.5m | 2 |
| 3. | Elvis (Warner Bros) | £1.3m | £13.8m | 3 |
| 4. | Top Gun: Maverick (Paramount) | £1m | £70.6m | 7 |
| 5. | Jurassic World Dominion (Universal) | £559,872 | £31.7m | 5 |
GBP to USD conversion rate: 1.19
Thor: Love And Thunder shot to the top of the UK-Ireland box office over the weekend, taking £9.1m from 696 locations for Disney – the widest ever release in the UK/Ireland for a Marvel Cinematic Universe title.
This figure is ahead of Thor: Ragnarok three-day opening figure in 2017 of £7.3m from 610 sites, but well behind its Marvel stablemate Doctor Strange In The Multiverse Of Madness's May debut of £14.9m from 685 locations. This was potentially owing to scorching temperatures across the weekend tempting audiences away from cinemas.
The fourth film in the Thor series and the second with Taika Waititi as director sees Chris Hemsworth and Natalie Portman reunite to defeat a new foe, played by Christian Bale. Russell Crowe rounds out the cast.
The location average stands at £13,118, with the total figure boosted to £12.3m, when including previews.
In its second weekend, Universal's Minions: The Rise Of Gru took £4.3m, down 59% on its opening session, which took £10.4m. Its overall figure is now £18.5m.
Warner Bros' Elvis took £1.3m in its third weekend outing, for a total now of £13.8m.
Top Gun: Maverick dropped 63% in its seventh weekend for Paramount, taking £1m, with a cumulative of £70.6m. It is now the 15th highest-grossing film of all time at the UK/Ireland box office.
Universal's Jurassic World Dominion figure from its fifth weekend was £559,872, with its overall now standing at £31.7m.
Disney's Lightyear took £227,000 in its fourth weekend, with its total now just over the £9m mark.
The Black Phone grossed £207,498 for Universal in its third weekend, bringing its overall up to £3.2m.
Studiocanal's Dr. Who: Classic Movie Double Bill took £59,457 across 370 locations when it played on Sunday (July 10), for a site average of £161. With a preview figure of £5,273, the total comes to £64,730. The double bill features Dr. Who And The Daleks (1965) and Daleks Invasion Earth 2150 A.D. (1966), both directed by Gordon Flemyng with Peter Cushing playing the timelord.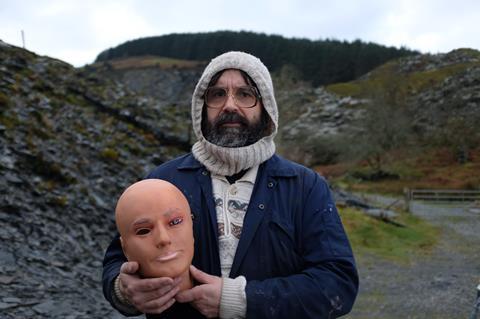 Brian And Charles made its box office debut for Universal with £49,411 taken from 146 locations, for a total of £71,900 when including £22,489 in previews, and a location average of £338.
The comedy is the feature debut of Jim Archer – whose TV credits include Big Boys and The Young Offenders – and sees David Earl play a lonely inventor who manages to build himself a robot friend. The comedy premiered at Sundance in January scooped the audience award at Sundance London.
Lionsgate took £27,580 from Good Luck To You, Leo Grande in its fourth session, with an overall figure now of £858,061.
A24's Everything Everywhere All At Once took £19,849 in its ninth weekend, with its total now just crossing the £5m mark.
Picturehouse's Cannes title Nitram took £6,227 in its second weekend, bringing its total to £68,582.
Ben Lawrence's Ithaka – the documentary charting Julian Assange's fight for freedom – debuted for Dartmouth Films at five sites to £2,320, giving a site average of £464, and a total including previews of £2,934.
Other new releases this weekend were Netflix's adaptation of Jane Austen's Persuasion, directed by Carrie Cracknell and starring Dakota Johnson; Punjabi-language Indian romantic comedy Sohreyan Da Pind Aa Gaya directed by Ksshitij Chaudhary and distributed by Zee Studios International; Trinity Cine Asia's Mandarin-language drama following people living in Wuhan during the Covid-19 outbreak, Ode To The Spring; and Italian Cannes Directors' Fortnight documentary Futura for Modern Films.