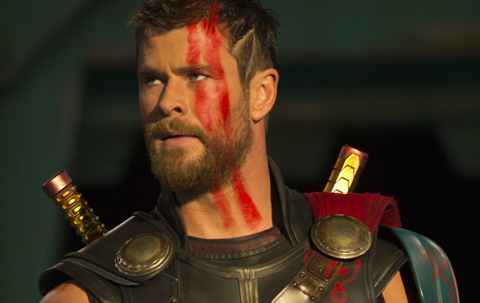 NOVEMBER 13 UPDATE: Marvel Studios' Thor: Ragnarok maintained top billing in its second weekend in North America thanks to a confirmed $57.1m haul that propelled it past $200m and combined with solid debuts from Daddy's Home 2 and Murder On The Orient Express to deliver a strong session.
There were more fireworks from heavyweight awards contenders in the limited distribution arena as Fox Searchlight opened Three Billboards Outside Ebbing, Missouri on $322,168 from four venues for a superb $80,542 average. Frances McDormand, Woody Harrelson and Sam Rockwell star in the tale of the mother of a murdered girl out for justice.
A24 expanded Lady Bird starring Saoirse Ronan by 33 venues to 37 and the coming-of-age comedy climbed 16 slots to number 10 on $1.2m for $1.7m after two weekends.
Paramount comedy Daddy's Home 2 starring Will Ferrell, Mark Wahlberg, Mel Gibson and John Lithgow arrived in second place on $29.7m from 4,080 theatres to gave Gibson his best opening weekend in front of the camera since Signs 15 years ago. For the year-to-date, this was the highest PG13 live-action comedy debut and second highest comedy opening.
The comedy dropped 29.7% against the $38.7m December 2015 debut of the original (en route to $150.4m in North America and $242.8m worldwide) but is nonetheless a strong performance that should endure in the weeks ahead as a comedy alternative to the admittedly funny Ragnarok and this week's new release, Justice League.
Fox's Agatha Christie whodunnit Murder On The Orient Express directed by and starring Kenneth Branagh among a host of stars including Daisy Ridley and Johnny Depp pulled into the number three slot on $28.7m from 3,341.
Ragnarok now stands at $212.1m in North America and $652.1m worldwide through Disney including three international sessions as The Walt Disney Company crossed $3bn at the international box office and become the only studio to have done so in the last three years.
STX's R-rated comedy A Bad Moms Christmas held well in its second weekend, falling 31.6% and sliding two places to fourth on $11.5m for $39.8m.
The Orchard opened Norwegian foreign-language Oscar contender Thelma at number 60 on $10,841 from a single venue. Hungary's foreign-language Oscar submission 1945 at number 53 added $18,698 from two New York sites via Menemsha for a $56,657 running total after two sessions. The postwar drama expands into Los Angeles on November 24.
The top 12 combined for $139.9m, down 16.4% on last weekend and down 6.6% on the comparable session in 2016.
This week's wide releases are: superhero saga Justice League through Warner Bros featuring an all-star cast led by Ben Affleck and Gal Gadot; Sony animation The Star; and Julia Roberts drama Wonder through Lionsgate.
Confirmed top 10 North America November 10-12, 2017
Film (Dist) / Conf wkd gross / Conf total to date
1 (1) Thor: Rangarok (Buena Vista) Walt Disney Studios Motion Pictures International $57.1m $212.1m
2 (-) Daddy's Home 2 (Paramount) Paramount Pictures International $29.7m –
3 (-) Murder On The Orient Express (Fox) Fox International $28.7m –
4 (2) A Bad Moms Christmas (STX) STXinternational $11.5m $39.8m
5 (3) Jigsaw (Lionsgate) Lionsgate International $3.4m $34.4m
6 (4) Tyler Perry's Boo 2! A Madea Halloween (Lionsgate) Lionsgate International $2m $45.9m
7 (5) Geostorm (Warner Bros) Warner Bros Pictures International $1.6m $31.7m
8 (7) Blade Runner 2049 (Warner Bros) Sony Pictures Releasing International $1.5m $88.1m
9 (6) Happy Death Day (Universal) Universal Pictures International $1.3m $54.9m
10 (26) Lady Bird (A24) Focus Features $1.2m $1.7m