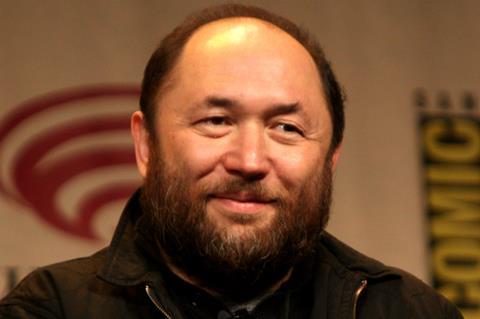 Russian filmmaker Timur Bekmambetov is developing a project to be partly directed by a computer using artificial intelligence.
The AI film is one of two separate projects inspired by neuro-psychologist Alexander Luria's non-fiction book 'The Man With A Shattered World: The History Of A Brain Wound', about the author's work with a Soviet-era soldier who suffered severe head trauma, that Bekmambetov has long been trying to adapt for the screen through his prolific Bazelevs production company.
"Luria invented neuro-psychology in the 1940s," explained Bekmambetov, whose many directorial credits include the Russian-language Night Watch and Day Watch vampire thrillers, and the English-language Wanted, Ben-Hur, and Abraham Lincoln: Vampire Hunter.
One version, likely to be shot first and to be written and directed by Bekmambetov, will be set in the present day and made as part of the director's ' Screen Life' series in which the on-screen story unfolds on, and through, computer screens. In this version, said Bekmambetov, a man thinks he has problems with his computer ("a lot of bugs and delays") but eventually learns the problem is not with his computer but with his brain.
For the second version, which will not be a 'Screen Life' film, and will be closer to the source material, Bekmambetov is working with Yandex, a tech company known as the Russian Google, to develop images for the film via artificial intelligence. "The soldier had a problem with his brain and we are programming the computer to make the same mistakes and to create illusions and hallucinations," Bekmambetov explained.
For example, he said, the computer might mis-recognise a radiator as an accordion or a tank as an elephant. "It is poetical. It's exactly how I do movies like Night Watch," the director said. "I am doing the same thing, doing shifts to find metaphors more powerful than the real image. Now, we have found a way to use computers to create this kind of poetry."
The 'Screen Life' films
Bekmambetov has produced three 'Screen Life' films to date through his Bazelevs outfit. The films are shot non-conventionally on mobiles and laptops but are released theatrically. Unfriended: Dark Web, a found footage horror film is produced with Jason Blum,and is being released by Universal's OTL Releasing and Blumhouse Tilt in the US later this month; Aneesh Chaganty's Searching, is about a father who breaks into his runaway daughter's laptop in a desperate attempt to find her, is being released in the US via Sony this summer; and Profile, directed by Bekmambetov, is about an undercover journalist who tries to infiltrate the online world of ISIS, which premiered in the Berlinale Panorama in February.
All three are screening in a special programme at Montreal's Fantasia Fest later this summer at which Bekmambetov will also host a masterclass.
The first slate of Screen Life films were backed by Cypriot financier Dossor. Bekmambetov said he had now secured funding for the next slate of titles and will announce the two financiers at Montreal.
"We plan to produce 14 projects during the next 18 months," he explained.
Bekmambetov and his Bazelevs team are hosting an online pitching event from their offices in Moscow, Los Angeles and Beijing for 15 would-be filmmakers aspiring to make a 'Screen Life' movie this Friday (July 13). He said the company received over 100 international submissions from all around the world and are now planning to choose three to take foward.
Bekmambetov said the aim is to greenlight three new Screen Life projects every three months.
International expansion
The filmmaker is also working on a sequel to Bazelevs' romantic fantasy film He's A Dragon which performed well in China in 2015. He's A Dragon 2 (working title) will again be directed by Indar Dzhendubaev with the same creative crew but is being made with Chinese partners. Production is expected to start this autumn.
Bazelevs has also recently made a Mexican remake of its 2013 Russian wedding comedy, Kiss Them All, called Hasta Que La Boda Nos Separe. The company is also preparing to release seventh instalment of its Russian Christmas franchise, Yolki (Christmas Trees) later this year.
Weinstein woes
Bekmambetov has revealed further details of the possible fate of The Current War which stars Benedict Cumberbatch and Michael Shannon as electricity pioneers Thomas Edison and George Westinghouse. It was due to be released in the US by The Weinstein Company. However as TWC is now in the late stages of bankruptcy proceedings with a sale to Lantern Capital possibly imminent, the future of The Current War remains unknown.
Bekmambetov developed and produced the film which is directed by Alfonso Gomez-Rejon and he escribed the version that screened at Toronto last year as "unfinished".
"We are waiting for the next distributor who will allow the director to finish the movie," Bekmambetov said. " Now, the movie is in limbo until there will be a new distributor. I hope there will be a new partner who will be smart enough to figure out how to complete and release it."
Bekmambetov was talking at the Neuchatel International Fantastic Film Festival in Switzerland which he is attending as a special guest of the festival this week.