The 27th Tokyo International Film Festival (TIFF) has announced a seven-year collaboration with the Japan Foundation that includes co-producing a pan-Asian omnibus series.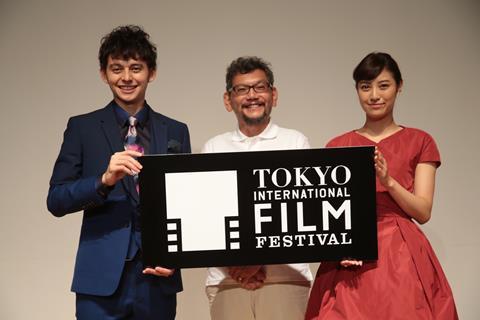 UniJapan and the Japan Foundation are set to hold Film Culture Exchange Projects linking Japan and other Asian countries at TIFF for the next seven years.
Firstly, this year TIFF will launch Crosscut Asia, a showcase of Asian films that will focus on particular countries, filmmakers, actors and themes. In its first year, Crosscut Asia will focus on new Thai films. The line-up will be announced Sept 30 with the rest of the TIFF selection.
Secondly, Japan Foundation Asia Center will present the Spirit of Asia Award to one film from the Asian Future section for up-and-coming directors. The winning production team will get a trophy and a trip to Japan, or, in the case of a Japanese winner, an invitation to travel to other Asian countries.
Lastly, Japan Foundation Asia Center and TIFF will co-produce a series of omnibus films called Asian Three-Fold Mirror. The project will have three up-and-coming Japanese and other Asian directors producing an omnibus of films on a single topic. The festival expects "just like a three-fold mirror, the integrated film will reflect respective directors' angles and aesthetic values of Asia, depicting similarities and differences of the same topic."
Hideaki Anno retrospective
Yasushi Shiina, director general of TIFF & TIFFCOM said: "We are going to be showcasing animation films in a way that only TIFF could do this year. That is the retrospective programme The World Of Hideaki Anno. We will continue to present those outstanding Japanese filmmakers to the world."
The retrospective will showcase over 40 of Anno's films, including early works from his student days, films he directed and produced. For the full lineup see http://2014.tiff-jp.net/news/en/?p=6821
Anno said: "I am quite excited to show most of my previous films at this year's TIFF. By looking back [at] my past work, I find that my creation style has not been changed since I started my career. Even some of the films from my amateur ages constructed part of my career, so I am thrilled to show my films from all genres."
Studio Ghibli producer Toshio Suzuki, who was on hand at today's press conference to help present the retrospective, said: "After Hayao Miyazaki announced his retirement, I truly believe that Anno will be the successor in the Japanese animated film industry and I also believe that animation can only be run by a few talented people, and Anno is one. You have to value the talented people like him."
The festival also announced John Lasseter, executive producer of Disney animation Big Hero 6, will attend its world premiere as the festival's Opening Film.
In addition, the Special Screening at the historic Kabukiza Theatre will be of Charlie Chaplin's City Lights.
Reportedly a fan of kabuki, Chaplin in 1932 visited the theatre which was built the same year he was born, 1889. TIFF audiences will be treated to a kabuki performance before the special screening of his film.
This year's Festival Navigators will be local personalities Azusa Okamoto and Harry Sugiyama.
TIFF will run Oct 23-31 at Roppongi Hills, Toho Cinemas Nihonbashi and other venues in Tokyo.